Mayor pay more than nine Ellis County mayors — COMBINED!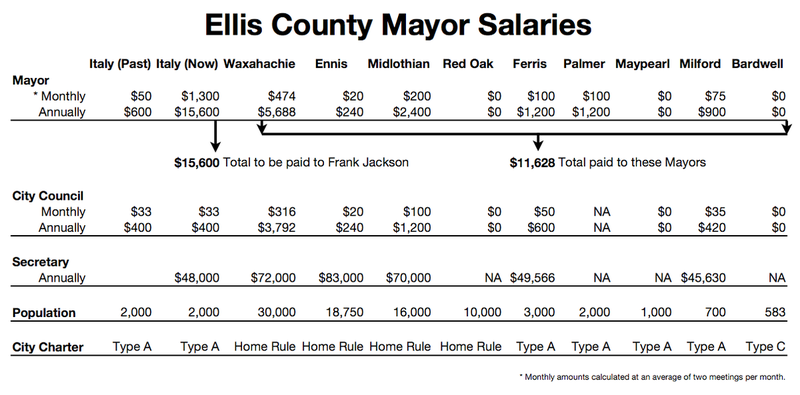 Mayor Frank Jackson isn't just the best paid mayor in Ellis County, his salary is 34 percent more than the combined compensation of nine nearby mayors. It's 3 times higher than the Waxahachie Mayor and 65 times higher than the Ennis Mayor.
In our investigation, three cities claim no compensation for their mayor at all. The others all state that compensation is for meetings attended. Our calculations are based on two meetings per month so the actual amounts paid are probably lower.
Previously, Jackson was paid $150 per quarter. Italy council members are paid $100 per quarter. These amounts are considered expense reimbursements by most businesses. It's so low, even the IRS doesn't care.
It was suggested in previous comments that Jackson's increase was merely some kind of raise. I'd like a raise like that. It's 2,600 percent higher. That's not a raise. That's new. It's a salary.
This changes the office of Mayor in Italy, Texas — forever.
The same commentator said the city did everything according to the law and they were not being "sneaky".
If this isn't sneaky, then I don't know what the word means.
We found the attorney general opinion used to justify bypassing the law. The attorney general was very clear what the law was intended to do. The opinion states:
The salary of a mayor of a general law city may not be increased during the term for which the mayor is elected.
The city council, mayor and city attorney still violated the law. How else can you interpret it? They gave a salary to the de facto incumbent mayor. No chance is given for the citizens to sign up to run against him. This election cycle is over. He is the mayor. They passed this salary while he is in office for the 2008-2010 term.
This decision will not stand up in a court of law. Is there an attorney that would like to follow this up pro bono?
---
If you wish to comment on this story or any story on the Italy Neotribune, write to submissions@neotrib.com