Italy Gladiators Finish Their Season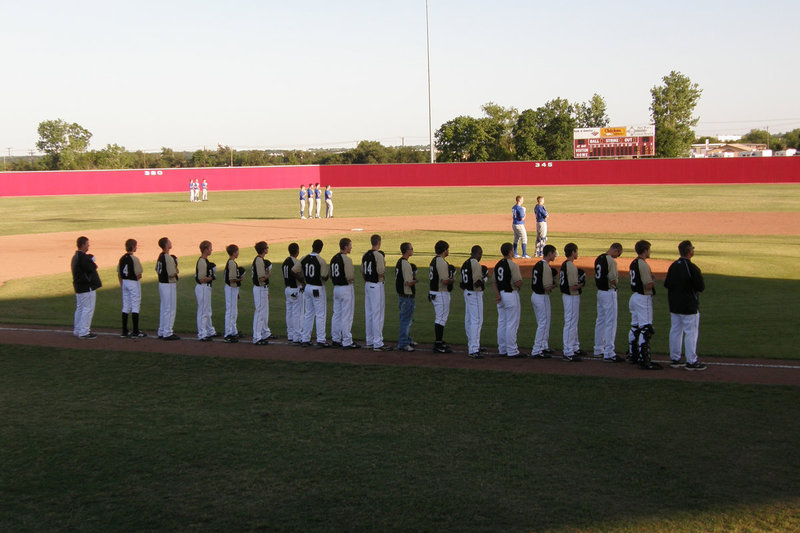 The IHS baseball boys' season came to a screeching halt on Monday night in Mineral Wells when they fought for the Class 1A Area title against Windthorst, who was ranked 2nd in Class A. They fought a hard battle but at the end of the 7th inning the team that came to the field 25-9 was on top 9-3 moving forward in the playoffs.
Coach Matt Coker said, "We have had a tremendous year. We fought hard against a real hard ball club that will make a deep play off run. We are a young club and this was a good foundation to begin with. Our team has made a good step in the right direction and I am proud of each and every one of those kids. "We've had a fantastic year and we can only learn from this," Coker added. "Justin did a fantastic job on the mound and Jasenio finished with a great job. What hurt us was too many extra outs and we gotta play better defense." Referring to his young ball club, Coker said, "They (the boys) worked hard and did everything I asked them to all season long. We will be ready to get after it next year."
Top hitters Monday night:
Jasenio Anderson went 2-4, scored 1
Jase Holden went 1-4, RBI
Justin Buchanan had an RBI
Josh Milligan went 1-2.
All District Honors
Justin Buchanan-Pitcher of the Year
Jasenio Anderson-Newcomer of the Year
Colten Campbell-1st Team All District
Ethan Simon-1st Team All District
Ryan Ashcraft-2nd Team All District
Jase Holden-2nd Team All District
Josh Milligan-Honorable Mention
Desmond Anderson-Honorable Mention
Dan Crowover-Honorable Mention