Railroad Historians Stop at Milford Depot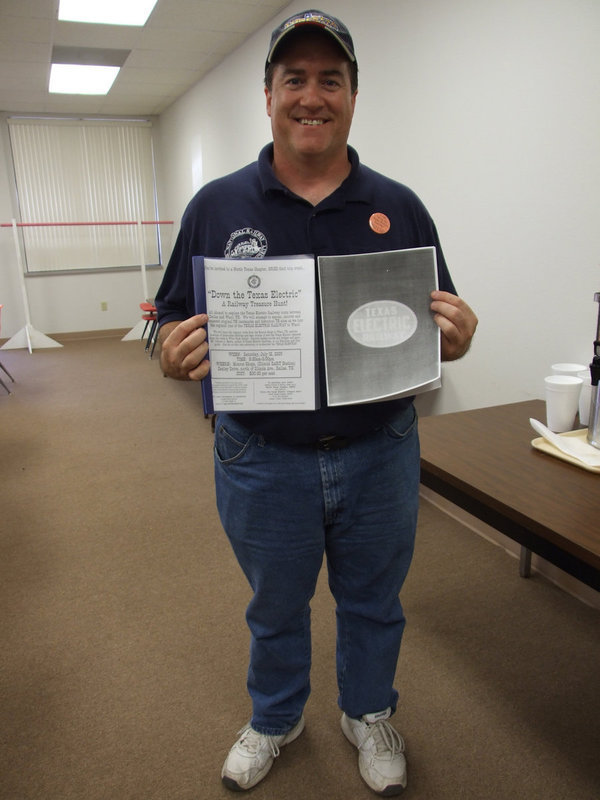 The North Texas Chapter of the National Railway Historical Society stopped at the Milford Depot in Milford on Saturday as they followed the Texas Interurban Railway route from South Dallas to Waco.
P. J. Lieble (owner of the Milford Depot) said, "Today we have the North Texas Chapter of the National Railway Historical Society stopping in Milford. They are taking a day trip that started at the Illinois Street Dart Station and are taking the route south that the Texas Interurban Railway would have taken from Dallas to Waco. They are stopping at all the little towns that there would have been a depot. When they found out that I was renovating the Milford Depot they were real excited because I wasn't demolishing the building, I was renovating it. You can still see the original tracks that come along side the building, the old freight door, and a lot of the historical information is still there. So they are stopping here to get a tour of the Milford Depot and we are serving them a sandwich lunch."
Skip Waters headed up this trip, (he is with the North Texas Chapter of the National Railway Historical Society) and had this to say, "We are leading a group of 13 railroad historians following the Texas Electric from Dallas to Waco. Along the way we are rediscovering every station including the one here in Milford. We are taking pictures of still existing abutments from the bridges that are still here. We have historical guides with us like Johnny Meyers. Johnny put together the route where everything was back in the day and we are following along and seeing what still exists."
Dr. John Meyers wrote a book about the interurban back in 1984 called Texas Electric Railways. Meyers said, "My book is the absolute complete history of the entire interurban system as it existed from 1913 to all the way to its end in December 1948. Lots of pictures lots of details of families and people who actually got this thing started such as Carl Strickland, Mr. Griffin and Congressman Jack Bell. The railway continued on until Mr Griffin folded it up in December of 1948 due to economic reasons and substantial losses from an insurance claim."
All in all the railway historians had a beautiful day to take a step back in history and tour the Milford Depot.