Italy Gladiators are district champs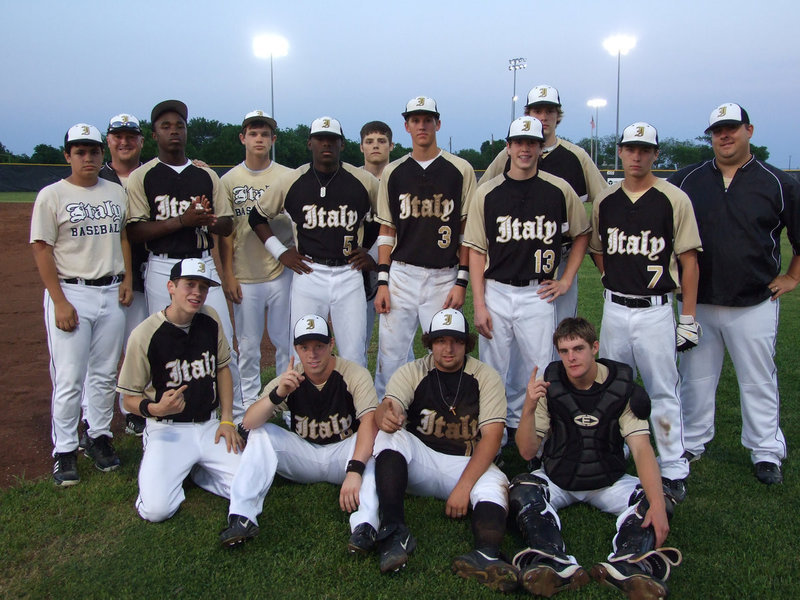 "We are district champions!" Italy Gladiators yelled in unison. According to head coach Matt Coker, "We are first in our district in I don't know how long." The Gladiators battled Frost Polar Bears on Tuesday night for the number one seed and and they accomplished what they started out to do.
With an undeniable string of accomplishments and success, the Italy Gladiators came out of this season as district champions. Frost has only lost two games and that was to Italy. They will be second in district.
Italy will have one more game for this district season and they will be played at home against Avalon on Friday, April 23 beginning at 6:30. "Our next goal is to be undefeated," Coker announced.
This game was a little more difficult. It showed because both teams had no score until the bottom of the 2nd inning when Frost's player #15 moved around the bases and scored.
In top of the 3rd, Justin Buchanan hit a double out to center field. Courtesy runner, Dan Crownover, took over for Buck at second. Ethan Simon hit a ball to left field for an RBI single, bringing Dan in to score. In the bottom of the 3rd, our defense was excellent. Frost's pitcher #10 hit to left field and Jase Holden caught it. Frost hit a long ball to right field where Ethan Simon was standing guard for an out. One more time, Frost hit to left field and Holden stopped Frost in their tracks. Three up, three down.
Frost couldn't score again and let the Gladiators gain momentum. In the top of the 4th, Colten Campbell hit a double to left field. Josh Milligan hit an RBI single and scored Campbell. Ryan Ashcraft sacrificed a bunt moving Milligan into scoring position. Jasenio Anderson grounded out bringing Milligan in to score. Score is now Italy 3, Frost 1.
Top of the fifth inning, brought Buchanan to the plate where he hit a triple to left field. Courtesy runner Crownover came in to run for Buck again. Ethan Simon followed with an RBI single, scoring Crownover.
By the top of the 7th inning, Frost decided to intentionally walk Simon and Holden. At his next at-bat during, Colten Campbell hit a 2 run RBI single. The final score was Italy 8, Frost 1.
Coach Coker said, "Justin Buchanan battled and made big pitches when he had to. I am proud of the whole team. This game was the biggest challenge so far. We hit when we had to and did a great job at the plate. I think of how far we have come since I've been here. This is the best group of kids to coach. Now we have to be ready for play offs. We will have some warm up games before then."
In reference to the Frost team, Coker said, "Coach Revil is a great coach and you can see his team is well coached. They battled well tonight and I wish them lots of luck. My hats are off to Coach Revil and his team. I have a lot of respect for him."