Southern Cruisers of Ellis County head out along Hwy 77, on foot…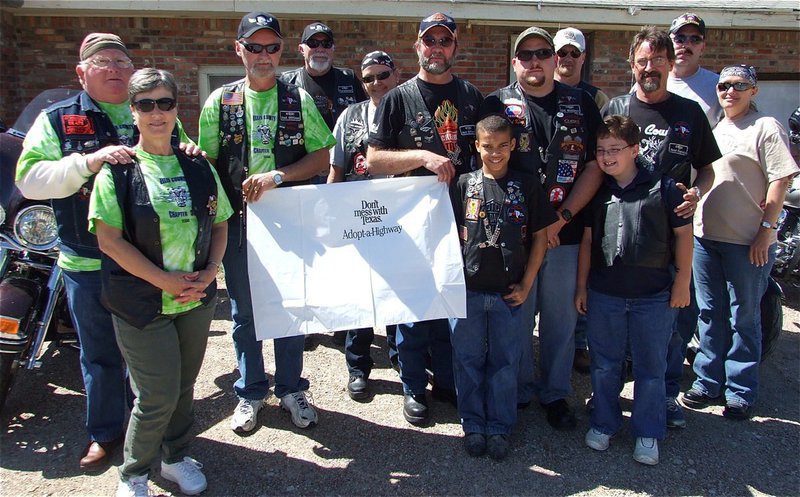 Italy — As part of the Don't Mess With Texas, Adopt-a-Highway program, the Southern Cruisers Riding Club of Ellis County 326 covered two miles of Hwy 77 on Sunday, but not on their motorcycles. Club members and their families walked along the sides of Hwy 77 in their boots clearing debris and trash as they patriotically eagle-eyed the medians and ditches.
Club members arrived in Italy at 3:30 on Sunday and dismounted the motorcycles to begin the trek down the sides of Hwy 77. Jokingly, Southern Cruiser club member Barry Guthrie said, "I joined the Southern Cruisers Riding Club so I wouldn't have to walk." And after a chuckle everyone began the cleanup effort.
The Southern Cruisers Riding Club of Ellis County 326 also benefits St. Judes Hospital in Memphis. "We ride to Memphis every August and personally deliver the money donated and visit with the kids. The SCRC, as a whole, has given over ONE MILLION DOLLARS as of this year." mentioned the club's First Officer Shay Krnavek.
Mike Ritchy, who helped organize the gathering of volunteers added, "This is our first time to participate in the "Adopt-a-Highway" program so there has been a bit of a learning curve. We will start earlier in the morning next time instead of in the heat of the afternoon and everyone should carry extra bags in their pockets. Also, keeping the volunteers hydrated after they venture off will be better thought out before our next trip."
It didn't take long to notice the difference the volunteers were making along the stretch of Hwy 77 that cuts through Italy. On behalf of the businesses and hundreds of travelers that rely on that stretch of road daily, "We would like to thank the Southern Cruisers Riding Club of Ellis County 326 for volunteering their time to keep our county beautiful."
The Southern Cruisers Riding Club Ellis County Chapter 326 welcomes all bikes and there are no dues required. Get involved, meet some great people and help the kids of St. Judes.
Southern Cruisers, "Cruisin' for a Cure."