Ellis County Equine Association Presents Awards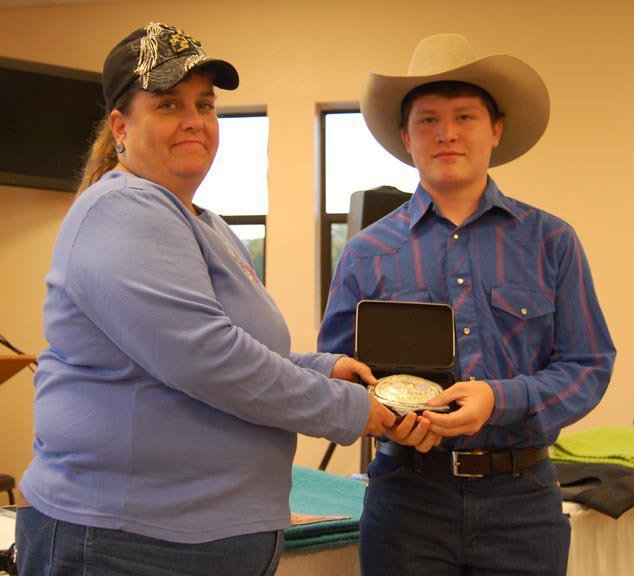 There were many happy faces and shiny cowboy boots on October 2, as competitors in the Ellis County Equine Association gathered for their year-end banquet at Lakeview Camp and Conference Center in Waxahachie to receive a menagerie of custom made awards in honor of their hard work to win championships throughout the 2010 ECEA horse show season.
"We've had a great show season despite the down economy!" announced ECEA President Julie Hinz at the beginning of the ceremony. "Thanks so much to all of the hard work from all of our officers and volunteers and especially our sponsors."
Buckles were awarded to the individuals racking up the most points over five shows in halter, English, Western, reining, yearling performance, and walk and whoa categories. Other awards included trophy leather saddle pads, trophy halters, hay bags, spur straps, Painted Ponies, and embroidered horse sheets.
Several Italy residents compete in ECEA and won championships. Jake Escamilla, who attends Italy High School, won the Champion Aged Mares at Halter buckle and the Champion Solid Color at Halter Buckle with his grandmother's palomino mare Twice A Zillion. Sadie Hinz, who is in the 1st grade at Stafford Elementary School, won the Walk and Whoa Championship with Sock Its Pretty Boy. And Julie Hinz won buckles for Yearling Halter and Yearling Performance with Zippo E Nuff (her rescue baby recently adopted from local non-profit Never E Nuff Horse Rescue) in addition to Champion Adult English Rider with her Paint mare Miss Specialty.
In addition to horse show awards, ECEA honored several special members or families for their dedication and helpfulness to the club. The Hammock Family consisting of Jerry, Mitsy, Emily and Audry of Waxahachie won the Billie Wesson Most Active New Member Award. The families of Jennifer and Glenn Alexander of Midlothian and Mary and Chesley Hinds of Waxhachie both won the Randy McMullan Spirit Award for their dedication to ECEA throughout the year. The Mighty Special Award, sponsored by the Flying Dollar Ranch in honor of one of their lesson horses, was awarded to Elizabeth Terry of Waxahachie for doing many "special" things for many people of ECEA throughout the year.
A full list of 2010 ECEA Buckle Series Horse Show winners, and more information about ECEA and its activities is available on the club's website at www.elliscountyequine.org. Or you may call club president Julie Hinz at 972-483-7774.