Avalon cheerleaders are back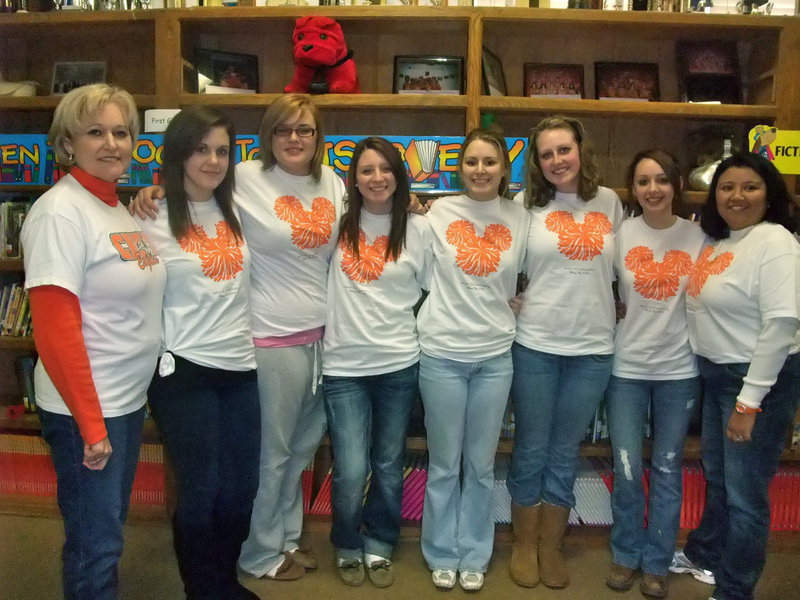 The Avalon cheerleaders are back from Florida and boy are they excited. They had a lot of new and different experiences and are ready for next year's cheerleading camp.
Last year six out of the eight cheerleaders (Sydney Davis, Heather Boone, Chelsea Nelson, Brittany Mageors, Mikalla Wimbish and Ella Presley) for the Avalon Eagles received the honor as "All American" at cheerleading camp which entitled them to participate in a parade in Florida. They arrived in Florida on December 2nd and returned home December 5th.
When they arrived in Florida, the first thing they had to do was learn a whole new cheer right along with five hundred other cheerleaders.
They performed in the parade and did an excellent job, "There were 500 cheerleaders and they were all in sequence. The Avalon cheerleaders held their own, we were crying, they did so good. We were there for the coldest cold front Florida has ever seen. The girls were in their cheerleading uniforms in the cold but they did so good. They did wonderful," Patty Hernandez (assistant cheerleading coach) said proudly.
Hernandez contended, "One of the fun things to happen to the girls was when we saw Ryan Seacrest. When the girls spotted him they immediately wanted to go over and see him. We were so tired, but the girls wanted to see him so badly. He was surrounded by this huge group of cheerleaders so our girls take off to go over there by him and this lady stops them and says 'no, no you have to go around this curve to get to him'. So they took the curve and by the time they got there Ryan was finished, he was leaving with all of his body guards. The expressions on our girl's faces was nothing but disappointment. We saw him and he was heading across this main street and I don't know where it came from but I started screaming 'Ryan, Ryan.' He stopped in the mist of all of his body guards and looked around to see what the commotion was about and we said "just one more picture?" And he said come on over. He stood there and took a picture with us. It was another big highlight of our day. Very graciously he took the time to do that for the girls." Patty added, "And I haven't washed my arm yet!"
Another experience one of the cheerleaders had was kind of scary, Ella Presley explained, "Brittany and I were standing there in line on the bridge waiting to perform in the parade and we were leaning over to look at the ducks and all of a sudden I handed Brittany my pom poms and she was like, whats wrong ? I said I am stuck in the bridge. My knee was stuck in between the slats in the bridge. So McCalla came over to the bridge and yanked it out. It felt like she broke my knee, I had a bruise for over a week. I was still able to perform in the parade, in fact as soon as I got my knee free we were called to perform."
While visiting Disney World, Brittany Mageors had a great surprise. She explained, "My favorite disney movie is the Princess and the Frog. While I was shopping I found the cutest Princess and the Frog ornament and while I was admiring the ornament Mrs. Hernandez pointed over to where Princess Tiana and The Prince were, I went over to them and they signed my ornament and took a picture with me."
All in all the trip was great and the girls learned a lot. Congratulations girls!