Lady Gladiators play 7 games in 6 days winning 4-of-7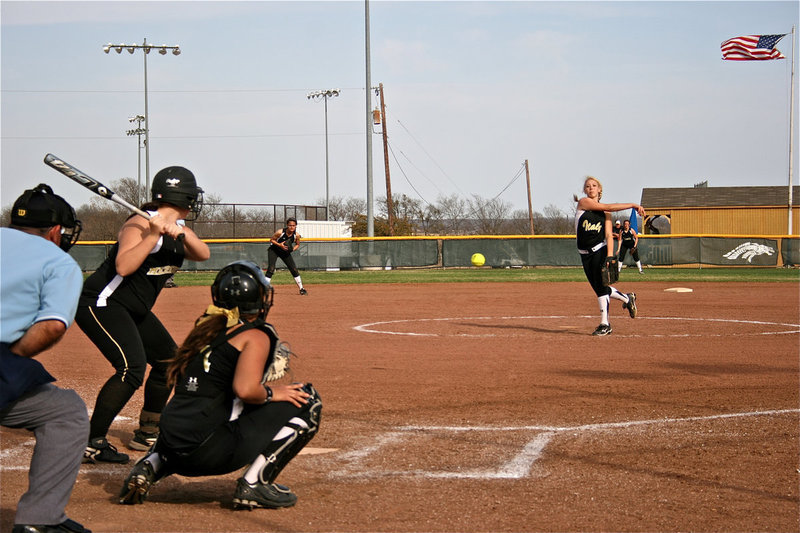 The Italy Lady Gladiators Softball team has had quite a stretch of softball starting with the Grandview Tournament just before Spring Break and wrapping up with a non-district home win against Rice this past Tuesday. All-in-all, the Lady Gladiators played 7 games in 6 days winning 4-of-7.
The Lady Gladiators finished the tournament with a 2-2 record with one loss to the reigning 2A State Champions, the Mart Lady Panthers, and the other loss to rival Hubbard.
On Thursday before Spring Break, the Lady Gladiators got a bases loaded double from sophomore third baseman, Katie Byers, to beat Sunnyvale 3-2 in the first round of the tournament but lost the Mart game later that evening. On Friday, Italy traveled to Axtell and defeated the Longhorns 4-1 where an over the fence homerun by sophomore shortstop, Anna Viers, highlighted the district win for Lady Gladiators.
Back in tournament action on Saturday, the Lady Gladiators lost a morning game to Hubbard, 9-3. Later that same day, Italy won a rematch against their regional quarterfinal opponent from year ago, the Meridian Lady Yellowjackets, with a 7-3 victory to end the tournament feeling good about things.
With Barely any time to rest for junior pitcher Megan Richards and sophomore catcher Alyssa Richards, Italy suffered a district loss to Grandview at home on Monday, 14-0. Italy got things back on track in a non-district matchup against Rice on Tuesday with a 7-2 win and a chance to savor the victory for the remainder of Spring Break.
"We are playing really good ball teams right now and just trying to make ourselves better one pitch at a time," stated head coach Jennifer Reeves after the Meridian win. "It's about about taking pride in who we are and to represent our team and our school to the best of our abilities and respecting the game of softball."
The Lady Gladiators have recently added some new faces to their squad including Kaitlyn Bales and Kaitlyn Rossa. Bales just placed 5th at the State Powerlifting Meet in Corpus Christi this past weekend to give you an idea of her hitting power potential. Rossa has already used her long distance track running skills to put points on the board for the Lady Gladiators and has been settling in at centerfield for Coach Reeves.
With more games than days to play them in, there has been plenty of fan concern regarding the right arm of M. Richards. "The wear and tear is not as severe for a softball pitcher as a hardball pitcher, but even so, Megan's feeling it," commented her father, Allen Richards. "In fact, Alyssa is just as sore from working every pitch behind the plate as I'm sure all the girls are after playing this many consecutive games."
With just one senior athlete in left fielder Nikki Brashear to help lead the way, the Lady Gladiators sport a young lineup overall but, at times, show flashes of dominance. However, being young means the Lady Gladiators are also learning on the fly. Despite the eventual outcome this season, continued improvement is vital for the Lady Gladiators since this years sophomores and juniors will be next year's junior's and seniors.
Team veterans such as junior second baseman/power-hitter Bailey Bumpus, junior right fielder Alma Suaste and rising stars Morgan Cockerham, Breyanna Beets, Drenda Burke and freshman first baseman, Paige Westbrook, round out Italy's talented crew.
So now it's all about hard work and striving for the dream. Coach Reeves and assistant coach Tina Richards are doing their best to have the team ready to align with destiny: "Success is when preparation meets opportunity." — Henry Hartman
Next up, the Lady Gladiators play Tuesday, March 22 (Today), in Maypearl at 6:00 p.m. and then at home on Friday, March 25, against Whitney starting at 6:30 p.m.
Go Lady Gladiators!