Morgan Cockerham and her Duroc named, Kinsler, win 1st in class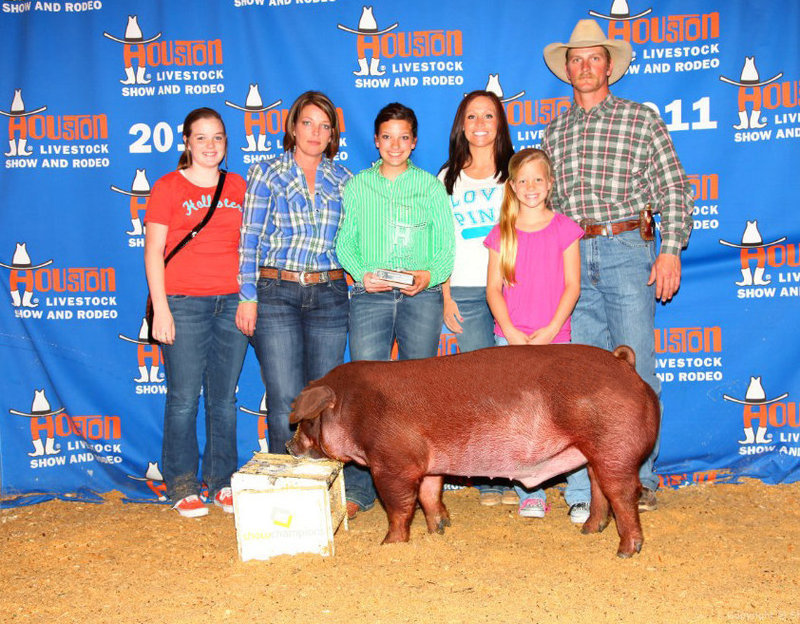 An Italy High School sophomore and a member of Italy FFA and Ellis County 4H, 15 year old, Morgan Cockerham, and her Duroc pig, Kinsler, named after Texas Ranger's ball player Ian Kinsler, won 1st in class and 3rd in the light-medium weight division during the Houston Livestock Show & Rodeo this past Wednesday, March 16.
Also known around the pens as "80," Kinsler weighed in at 242 pounds and was nursing a bruised pad on his right front hoof for two days before the show. Pigs rely on their footing for feel and balance so the injury posed serious concerns. Kinsler's pen crew did what they could to relieve his pain before the defining moment.
Not chickening out, Kinsler hoofed it up for the judge as best he could during the competition. "We are not exactly sure when Kinsler hurt himself. It probably happened when he was either being loaded or unloaded," commented Dustie Jones, Morgan's proud mother. "The judge told Morgan that, Kinsler, was the best Duroc of the day but that he seemed a bit stiff in the front, which likely hurt his chances at being the overall grand champion."
Before the duo were done, Morgan and Kinsler managed to be highest ranked team from Ellis County of all those that travelled and competed in Houston. Only two swine, of the handful entered from Ellis County, made the sale and Kinsler was one of the two and sold the following Friday.
Also on hand to share in Morgan's big moment were, Wesley Jones, sisters Reagan Cockerham and Alex Jones, grandmother, Patricia Messerschmidt, and aunt, Lona Carver.
Morgan is an Honor Student at IHS and participates in volleyball, softball, cheerleading and powerlifting. She is Member of FCA (Fellowship of Christian Athletes) and active in the First Baptist Church of Italy's youth group. This is Morgan's second year to show swine and Houston marks her first major show.
Congratulations to both Morgan and Kinsler for a job well done in Houston!