Italy travels to Maypearl hoping to shine on sand covered diamonds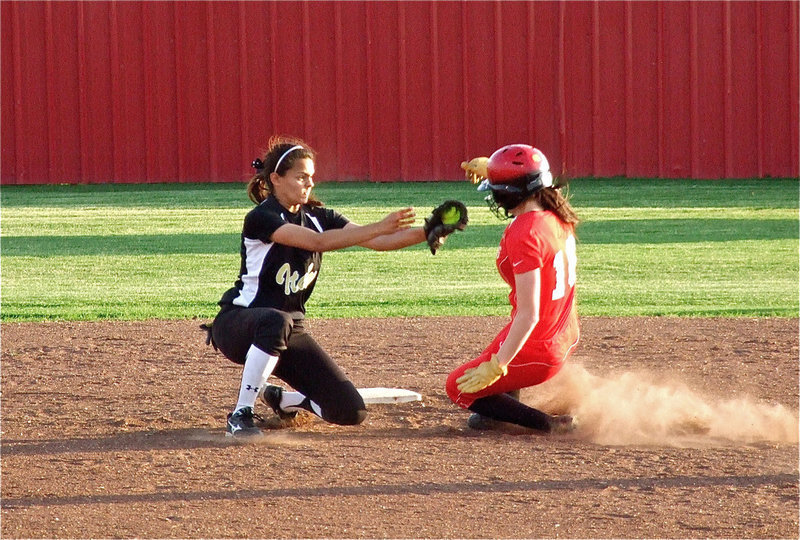 The Italy Lady Gladiators had intense game faces on as they made their way through the crowds and toward the main field in Maypearl. As their cleats pinged and scratched away at the concrete surrounding the concessions, the team stepped onto the field and pierced the Lady Panther's sand and grass wearing plenty of eye-black war paint and and a ball bucket full of expectations.
Despite Megan Richards pulling a chest muscle during practice this week, the junior leader did just that, lead. The game was tight early but by the 5th inning, Maypearl had patiently pieced together a 5-0 advantage. As the game wore on, Megan's injury became more problematic but the gutsy slinger continued to return to the mound.
Catcher Alyssa Richards provided back-to-back highlight plays for Lady Gladiators' fans, however, after throwing to third base to catch a runner too far down the baseline. Shortstop Anna Viers covered third to make the catch and then made the tag for the second out of the inning.
On the following play, with a Lady Panther attempting to steal second base, Alyssa slung the ball to Viers who was now covering second base. Viers made the grab as the runner slid in and still managed to make the tag for the third out.
Offensively, Italy continuously connected with the ball but Maypearl's defense was in the right place more times than not. A right field blooper over first base by Italy's Alma Suaste was one of the few Lady Gladiators hits that landed where a red uniform wasn't standing. Defensively, Italy started strong but a rash of unforced errors late in the contest allowed the Lady Panthers to put the game away and get a 10-0 win over Italy.
In JV boys action, Bailey Walton took the mound for the Gladiators causing head coach, Josh Ward, to finagle his infield defense. With plenty of talent to choose from. The adjustments worked well as Reid Jacinto, who pitched the last game, moved to shortstop and Cole Hopkins replaced Walton at first base. Kevin Roldan remained at third as did Zain Byers at second base.
Chase Hamilton anchored the outfield as Italy kept the JV Maypearl Panthers' hitters contained. Brandon Souder continues to improve in his new role as catcher and combined with Walton on a wild pitch to get the runner, stealing from third, out at the plate.
Solid base running, hustling to fly balls and solid hitting all added up to an 8-2 win for Italy's J.V. Gladiators.
Go Italy!