Lady Gladiators win 3-of-5 and stand alone in 3rd place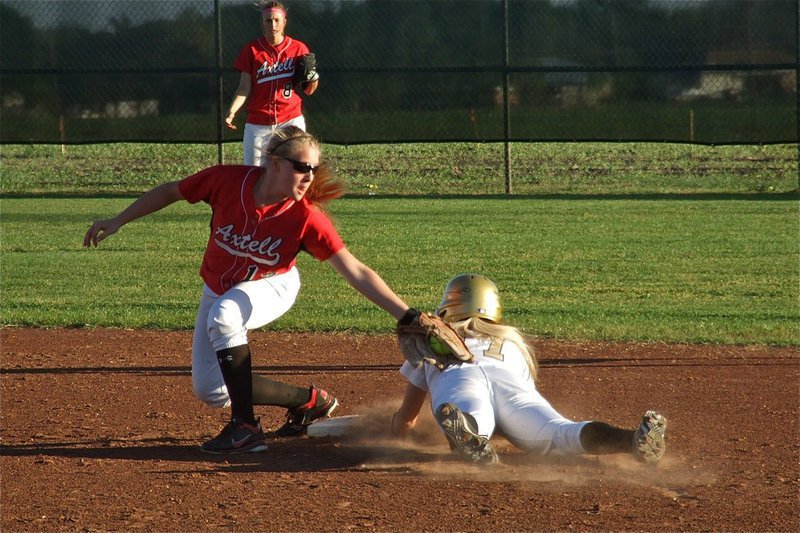 Boasting just one senior athlete on the roster in, Nikki Brashear, the Italy Lady Gladiators have managed to position themselves with a chance for the playoffs. Currently standing in 3rd place in their district, which will qualify them for playoffs if they can hold that spot, the Lady Gladiators have won three of their last five games.
Italy's latest wins have have been 2-0 over Whitney, 15-0 over Rio Vista and 10-3 over Axtell. Alyssa Richards hit one over the fence against Rio Vista and the entire Lady Gladiator lineup heated up against Axtell as they branded the Lady Longhorns for one solid hit after another.
While head coach, Jennifer Reeves, has been constantly rearranging Italy's lineup and batting rotation in an effort to find the perfect combination, pitcher, Megan Richards, has remained on the mound the entire season and continues to battle despite sore ribs. "I have to stay out there. This is my team and they need me," stated Megan.
With momentum on their side, the Lady Gladiators ventured to Grandview for a rematch with the district leading, Lady Zebras, who defeated Italy 14-4 earlier in the season. The game was much tighter the second time around. Grandview was holding a small lead, 4-1, as the game moved into the later innings. Megan was on the mark but credit Grandview's batters who connected just enough times to add a few more runs late to win, 6-1.
A few game highlights for Italy were turned in by: Brashear, who stretched all the way out at first base to haul in a throw from shortstop, Anna Viers, for an out, Bailey Bumpus who caught a pop fly near the left field foul line and coach Reeves who, once again, manages to work her magic to have a call reversed in Italy's favor.
However, the loss to Grandview did not effect Italy in the standings. The Lady Gladiators still cling to 3rd Place, and if they get wins over both Maypearl and Whitney, Italy would make the playoffs.
The Lady Gladiators will play Maypearl today, Friday, April 15, starting at 6:30 p.m. in Italy. Needless to say, fans in the stands will be crucial as the Lady Gladiators will be in a must win situation against the Lady Panthers to keep their playoff hopes alive!
Go Lady Gladiators!