Senior night at the baseball field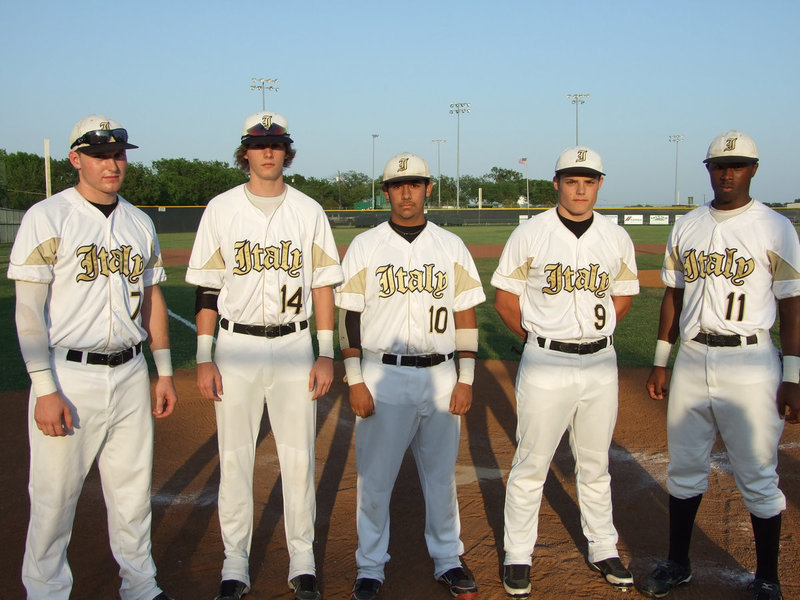 With one last district game in which to compete, the Italy Gladiators played their last home game on Friday night at Loyd Davidson Field. They took on Clifton but that wasn't the most important part. The last home game is over and the seniors are taking a step towards the next stage of their life.
A bittersweet moment for the Gladiator baseball team as the seniors leave at the end of the season and the juniors step up. Next year, the team will be minus five great players and they will be missed by all.
▪ Jasenio Anderson-escorted by mom, Shamelia Anderson and dad, Willie Henderson
▪ Colton Campbell-escorted by his parents, Joe & Janet Campbell
▪ Michael "Taz" Martinez-escorted by mom, Yvonne Acevedo and dad, Michael Martinez
▪ Ethan Simon-escorted by parents, Mick & Ramona Simon
▪ Kyle Wilkins-escorted by mom, Rhoda Wilkins and dad, Mike Wilkins
Each senior and his family was presented a rose from the Italy Athletic Booster Club and photo collage from the team parents at home plate. In addition, Coach Josh Ward and Coach Craig Bales were each presented a signed team baseball.
Coach Ward said this about his seniors, "I would like to say a special thanks to the seniors for all their hard work and dedication to me and the baseball program in my past 3 years here. It has been a huge honor and privelage to get to coach these guys and just getting to know them and be around them not only in baseball but in everyting else they have done for Italy High School. This being my first year as a head coach, I will always have a special place in my heart for this group of seniors. Thank you for everything you have done for this program in helping us get Italy baseball on the map. You have set the foundation for us to build a program that will be rich in tradition for years to come."
The JV played very well this year according to Ward, "I want to say something about our JV. We are fortunate to have a JV team this year that has gotten to play a full schedule of games, this shows me that there is some excitement going around about the baseball program. We have not been able to have enough for a JV these past couple years, so I was excited to see all the kids come out this year and I hope that we will have even more come out next year. Our JV has a record of 5-5 this year and has competed very well all year long. These kids are getting better and better every day and it shows on the field. Their last game is Friday as well at Rio Vista. I am excited about what the future holds for Italy baseball, and am looking forward to these kids becoming great varsity players."
In addition to the senior presentation, the Gladiators took on Clifton. Coach Ward explained what happened during the innings, "About the game: I thought we came out and played well for the first 4 or so innings. Then we made some mistakes in the field and Clifton capitalized on them. We must cut down on the defensive mistakes, as that has been our weakness all year. We are in a very good baseball district, and even though our record has not shown it, I feel that we are becoming a better baseball team because of it. We have shown at times that we can play with just about anybody we step on the field with; however, we just have to put it all together for a full 7 innings every time we step on the field. That has been our downfall this year, having a couple bad innings be the deciding factor in games. The last game is Friday at Rio Vista, and I am looking forward to ending this season on a high note."
The final game of the year is Friday, April 29. The Gladiators will travel to Rio Vista with JV beginning play at 4:30 and the Varsity game time is set for 7.
Go Gladiators!