Lady Gladiators earn several All-District accolades in softball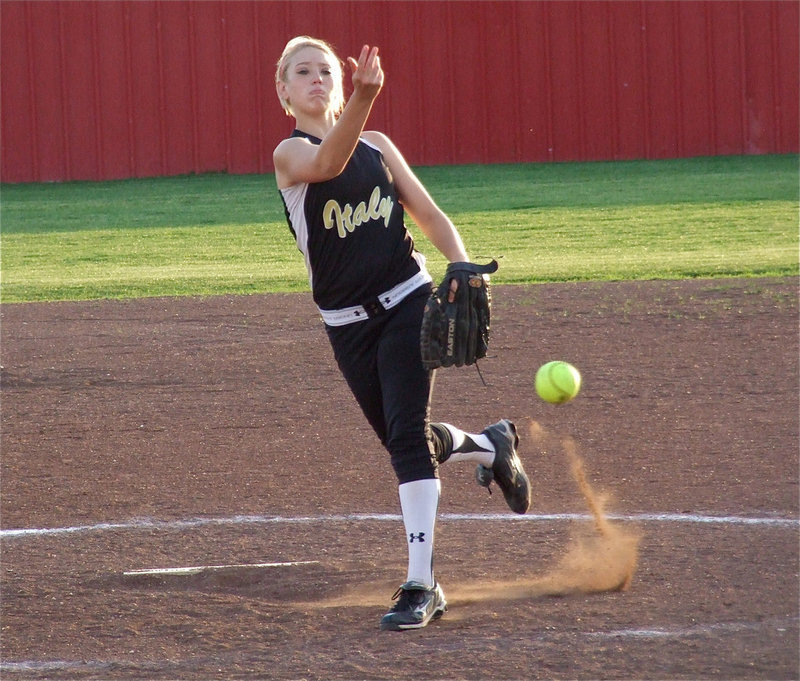 The Lady Gladiators softball team had 6 players honored as All-District selections and 6 players recognized as Academic All-District selections. The good news for head coach Jennifer Reeves, all 9 Lady Gladiators honored are expected to return to next years roster and will be joining their teammates that all made great strides in 2011.
When asked how excited she is about entering next season with the Pitcher Of The Year in Megan Richards, and the Catcher Of The Year in Alyssa Richards, Coach Reeves perked up with a Texas sized grin saying, "Oh, I'm very excited!"
Congratulations to all the players in the district that made the All-District list below, particularly, our Lady Gladiators!
 
2011 District 15-2A All-District Selections:
M.V.P. – Kalani Basham, So., P, Grandview
Offense POY – Jennifer Vrazel, So., SS, Clifton
Defense POY – Melody Mayse, Jr., 3B, Grandview
Pitcher OY – Megan Richards, Jr., Italy
Catcher OY – Alyssa Richards, So., Italy
Utility POY – Bailee Gibson, Jr., 2B/SS, Maypearl
Newcomer – Dakota Mayr, So., CF, Clifton
Freshmen – Amber Robinson, SS, Axtell
Coach – Tim Jackson, Grandview


1st Team All-District:
Brittney Tschoepe, So., SS, Grandview
Courtney Chambers, So., 2B, Grandview
Paige Pollock, So., C, Grandview
Payton Odom, So., LF, Clifton
Halie Applegate, So., 2B, Clifton
Paige Culp, So., P, Clifton
Abby Eastwood, Sr., P, Maypearl
Meghan Steele, So., 3B, Maypearl
Anna Viers, So., SS, Italy
Katie Byers, So., 3B, Italy
MacKenzie Kroll, Jr., CF, Axtell
Robin Wright, Sr., P, Whitney
Bailey Simmons, Jr., SS, Rio Vista


2nd Team All-District:
Patsy Taggart, Sr., 1B, Grandview
Lauren Starr, Fr., OF, Grandview
Alexis Wheeler, So., OF, Grandview
Marti Hanson, Fr., 3B, Clifton
Kayce King, So., SS, Maypearl
Haley Ware, So., 1B, Maypearl
Brittney Hooks, Jr., OF, Maypearl
Bailey Bumpus, Jr., Utility, Italy
Paige Westbrook, Fr., Utility, Italy
Jessilyn Armstrong, So., 1B, Axtell
Peyton Downs, Jr., 3B,  Axtell
Kaytie Sisson, Sr., SS,  Whitney
Samantha Snelgrove, Sr., 3B, Whitney
Carrie Brownlee, Jr., 2B, Rio Vista


Academic All-District Lady Gladiators: