Inaugural High School Football Magazine Debuts Friday, July 13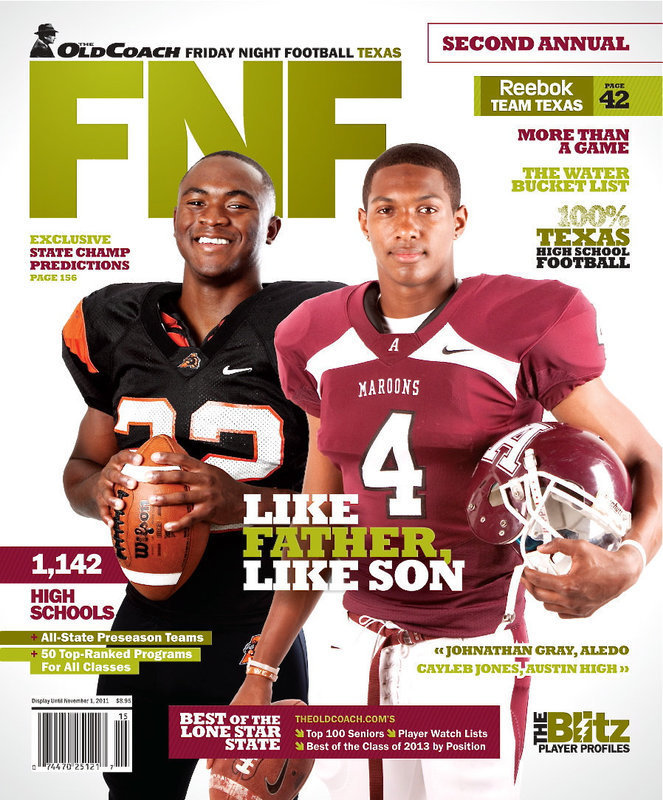 Inaugural High School Football Magazine Debuts Friday, July 13
The state of Texas' only newsstand magazine entirely devoted to high school football returns in 2011. The Old Coach Friday Night Football Texas will be available on newsstands statewide starting July 19. Segments containing information on the Italy Gladiators and other football programs throughout Ellis County are mentioned within the publication. 
Friday Night Football Texas, or FNF Texas, is produced annually by The Old Coach Network, a Texas-based, multi-media company which began in 1999, and A.E. Engine, a publisher that produces similar high school football previews in Florida, Georgia, Alabama and Tennessee under the FNF brand.
FNF Texas is 172 pages and contains in-depth previews of 1,142 public and private high school football programs in Texas. With the 2011 season set to kickoff on August 25, the extensive school overviews are complemented by feature stories, player statistics and recruiting information as well as predictions and rankings of every kind.
"The website, www.theoldcoach.com, covers Texas high school football like no other website and our magazine is an extension of that," said The Old Coach. "Our vision is to be 100 percent Texas high school football and to focus on having the most current, comprehensive information for any preview magazine for our state." 
"I'm pleased that our team of writers went the extra mile to produce a superior product which pays tribute to the student-athletes, coaches and programs as well as parents and fans in every community across the state."
The front cover includes two of the top 2012 prospects in the nation (Johnathan Gray from Aledo HS and Cayleb Jones of Austin High), representing more than 160,000 high school players across Texas. 
"We are very pleased to be returning for season No. 2," said Craig Baroncelli, publisher and president of A.E. Engine. "We base the success of every magazine we publish on reader response, so we believe we have created something very unique that football fans in Texas will annually anticipate and appreciate. Last year, our magazine appeared on an MTV reality show, so we will see what surprises are in store for us this year."
FNF magazine will be available at traditional newsstand outlets, and high school campuses statewide.  It is also available to order online at www.theoldcoach.com
About The Old Coach Network, LLC:
The Old Coach provides resources for high school athletes, coaches, parents and fans. Started in 1999, TheOldCoach.com has grown into one of the largest and most reputable sources for high school football in Texas. As the digital high school publisher for Rivals.com and Yahoo! Sports in Texas, www.theoldcoach.com presents a varied medium to enrich the efforts of Texas high school athletics.
In addition to our digital and publishing expertise, The Old Coach also produces athletic camps, radio programming, and offers its clients practical marketing opportunities at football games during the fall.
About A.E. Engine, LLC:
Launched  in 2005, A.E. Engine, LLC provides publishing and marketing services to companies and associations across the country. Based in St. Petersburg, Fla., A.E. Engine concepts, develops and executes print, online and event strategies for a variety of partners at the professional, collegiate and scholastic level. A.E. Engine clients include NASCAR, PGA rights holders, US Youth Soccer and many Fortune 500 companies. A.E. Engine publishes FNF titles in Alabama, Florida, Georgia and Tennessee in addition to Texas.
In May 2009, A.E. Engine released FUEL Football, the High School Football Player's Offseason Handbook, a magazine that was distributed at no-cost to 500,000 high school football players across the country. Since then, A.E. Engine has launched FUEL titles for basketball, baseball, soccer and training. Additional company information can be found at www.ae-engine.com.
Information above submitted as an immediate press release by, David McNabb, on July 5, 2011.