Lady Gladiators have an accomplished lineup to help in their quest for glory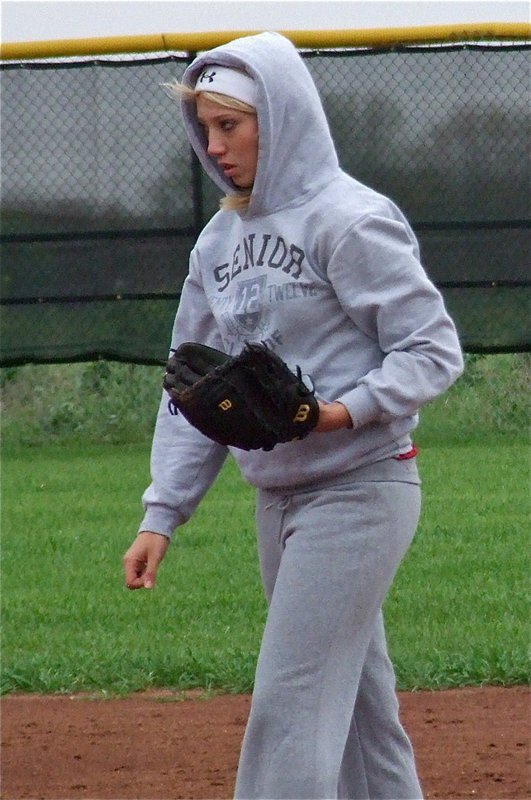 The Italy Lady Gladiators, head coached by Jennifer Reeves, began district play Tuesday, March 5 against the Rio Vista Lady Eagles with Italy taking the win, 13-0. Already off to a solid start, the Lady Gs will be relying heavily on senior pitcher Megan Richards and freshman pitcher Jaclynn Lewis in their quest for a State title in 2012. That's right, State! Italy's "Diamond Divas" have hopes to win the whole breakfast burrito this season.
An additional factor in Italy's overall success will be junior Alyssa Richards. Alyssa has been the starting catcher for the Lady Gladiators since her freshman season and has competed in summer league select softball for the past 7 years.
Selected as a 3rd Team All-State Catcher to the Texas Sports Writers Association 2A All-State Softball Team for 2011 (Players were nominated by coaches and sports writers from around the state and the team was selected by TSWA members), this past summer marks the second time Alyssa has made the Super Centex All-State list.
Nicknamed, 'Bone Crusher,' after the damaged inflicted on a runner trying to slide home against the aggressive catcher, Alyssa has unleashed her girl power to become a consistent long-ball hitter, as well, clearing several outfield fences for homeruns and has already accounted for 6 homeruns this season.
The daughters of Tina & Allen Richards, Alyssa and Megan, who is an All-State softball player, as well, and the 2011 District 15-2A Pitcher Of The Year, are prepared to guide the Lady Gladiators into, what is shaping up to be, a legendary season.
Joining the Richards' sisters in the infield is Junior Katie Byers who returns as a 1st Team All-District third baseman and has played at second base. Senior Bailey Bumpus, a 2nd Team All-District center fielder as a sophomore and a 2nd Team All-District utility player as a Junior, has seen action at shortstop and centerfield.
Tara Wallis has made plays at shortstop and centerfield, Madison Washington is flexible as a second baseman, shortstop or thirdbaseman and multitasker Paige Westbrook, who was 2nd Team All-District as a utility player last season, has played third base, second base, catcher, outfielder and been a DH already this season.
The pitchers pitch in, as well, with Megan active at first base and third base and Lewis putting time it at first base. Alyssa has even taken off the catcher's mask and made appearances at third and first base.
Backing up the infield are outfielders Alma Suaste, who was a 2nd Team All-District right fielder last season, Kelsey Nelson and Bailey DeBorde. Bailey Eubank is a mainstay in the outfield but has played second base and been a DH. Heavily relying on 6 freshman within her roster, Coach Reeves has not set a pattern to her lineup opting to test most of the players in different spots on the field.
Young but battle tested and with a nice mixture of playoff experienced veterans and passionate underclassman who have acquired championship experience as travel ball players and youth leaguers, the Lady Gladiators are primed to make a run for the record books.


2011-2012 Lady Gladiator Softball Roster:
Megan Richards (Sr.)
Bailey Bumpus (Sr.)
Alma Suaste (Sr.)
Katie Byers (Jr.)
Alyssa Richards (Jr.)
Paige Westbrook (Soph.)
Bailey DeBorde (Fr.)
Jaclynn Lewis (Fr.)
Bailey Eubank (Fr.)
Tara Wallis (Fr.)
Kelsey Nelson (Fr.)
Madison Washington (Fr.)



Go Lady Gladiators!