Italy's select baseball team ends summer league much improved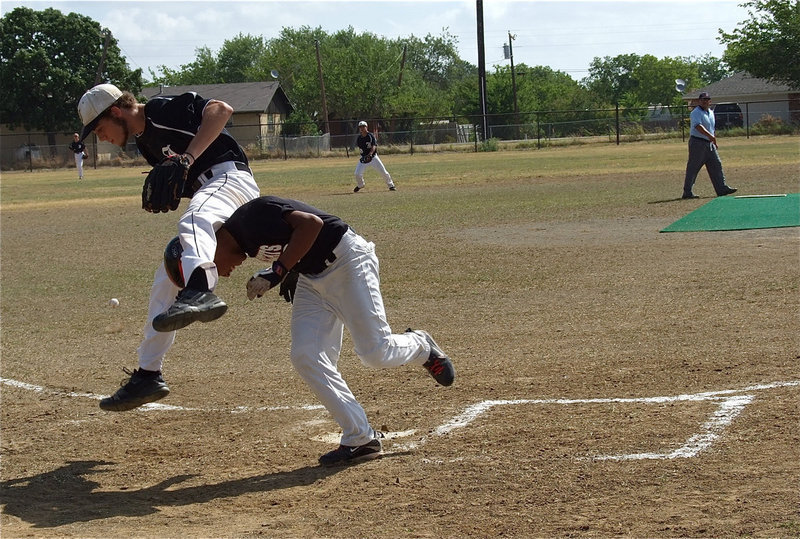 Whether it was Justin Wood hauling in fly ball after fly ball in centerfield, or Reid Jacinto setting up double plays from his shortstop position, or pitchers Kyle Jackson, Brandon Souder and Ross Stiles throwing heaters in 100+ degree heat, or hitters Reece Marshall, Brett Pickard, John Byers, Zain Byers and Bailey Walton presenting a threat with every trip to the plate, or Kevin Roldan catching every thing thrown at him as the first baseman, Italy's select baseball team proved, to themselves, they can be as successful as they want to be this coming spring.
Of the three seed games played in Italy on Friday at the Upchurch Ballpark, Italy just managed to win one game against Belton, 8-3. However, it was a very important win allowing Italy to play at 4:00 p.m. on Saturday instead of 8:00 a.m. within the tournament bracket. Setting up a rematch with Valley Mills, who stunned Italy in the third seed game on Friday, 15-0.
Coach Mark Jacinto explained to his team before the tournament, "You will be amazed how much you will improve from the first seed game to the end of the tournament." And with just 24 hours of rest, a different Italy team arrived in Hillsboro to take on Valley Mills for the second time in two days.
Valley Mills slowly built a 3-0 lead but not with the same flare as they had the day before. Despite the heat Italy's Jackson was a terror on the mound and was getting help from his defense to keep the game close while Souder braved the elements in his catching gear. Marshall crossed the plate for Italy to make the score 3-1 with Valley Mills still in front. During the same at bat, Italy quickly tied the game 3-3 to completely steal the momentum from the Eagles.
Down 5-3 during their final at bat, Italy loaded the bases to give themselves a chance. With two outs, a tough call on an outside pitch for strike three ended Italy's summer but it failed to dent the Gladiators' armor. With a new found confidence, and bats in their hands….let's just say, "The Gladiators will be a force to reckon with."
The tournament wrapped up with Brownwood defeating Valley Mills, Maybank and then Maypearl in the Championship game, 5-3.
Special thanks to Italy's select baseball coaching staff consisting of: Mark Jacinto, Vincent Jacinto and Mark Stiles.