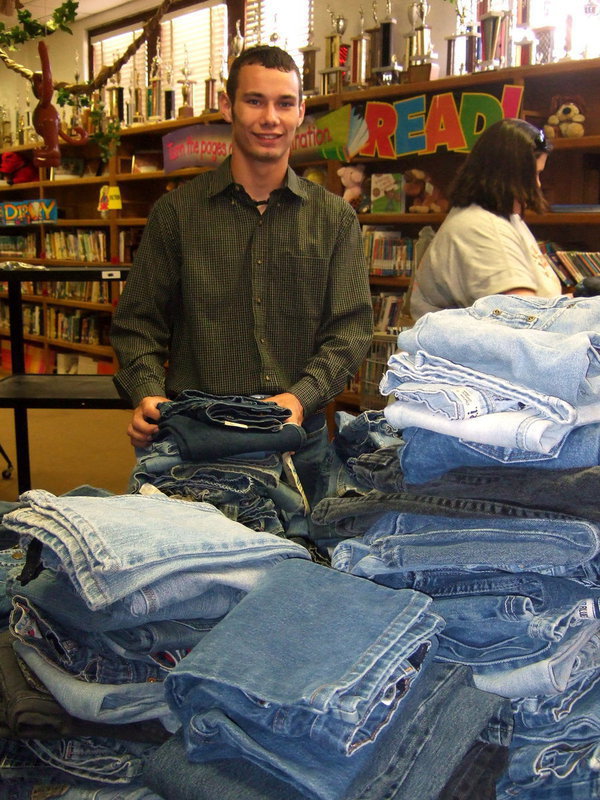 Everyone has been hearing about all the fires around our wonderful state of Texas. We have heard how the city of Bastrop has really been hit hard, lots of homes have been lost to the fires. And we sort of think only about the homes that have been lost and forget or don't focus on the fact that most everything in the homes have been lost too. Like mementos, furniture, towels, clothing, all the basic necessities. Well, Avalon ISD decided to help the students in need of clothing at Bastrop ISD by collecting blue jeans.
Dwayne Betik, the technology director for Avalon ISD, was instrumental in putting the blue jean drive together. "I am a part of a technology directors special interest group and I received an email yesterday saying that the students of Bastrop ISD are in dire need of clothing. Two hundred families around one of the elementary schools lost their homes. So we decided to ask the students to donate a pair of gently used jeans. What we received over night was amazing. So many jeans, some of them were brand new and we even received money donations."
Dr Delbosque (Avalon ISD superintendent) explained, "We sent a letter home yesterday about donating jeans. We asked that anyone that could, please donate a slightly used pair of jeans. We also invited the community to participate through face book. Basically every child brought something and community members also brought in donations. I couldn't believe how many jeans were collected over night, our kids are amazing."
Denise Wimbish (library worker) said, "We are bundling up all these jeans according to size so when these jeans are delivered the student can just tell them the size they need and they can be helped right away."
On Monday of next week Mr. Betik will deliver the jeans to Bastrop ISD.
Way to go Avalon ISD!
Editors Note: Avalon ISD sent 825 pairs of jeans and $507 to Bastrop.