Third six weeks Awards at Stafford Elementary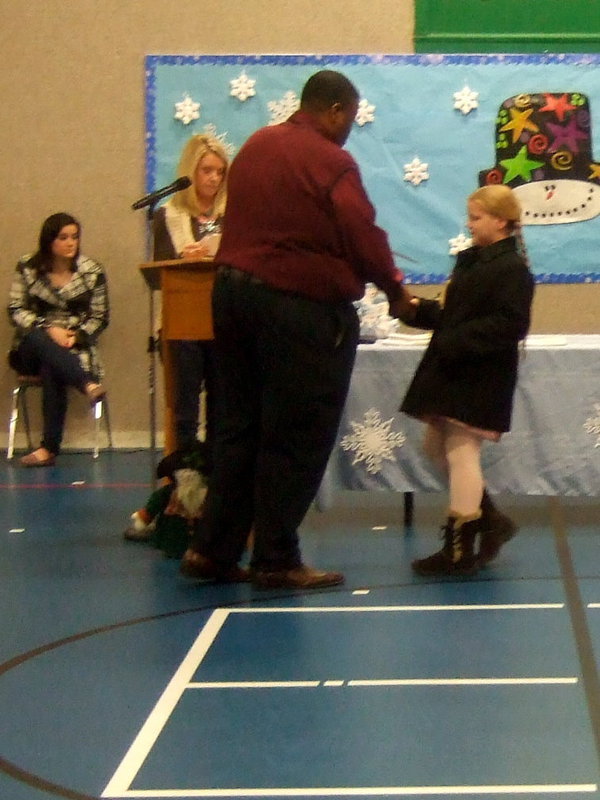 The gymnasium was full last Friday as Stafford Elementary held their third six weeks awards assembly. Every time a student's name was called, a huge smile could be seen on their face and they were very happy to shake Principal Miller's hand and accept their award.
Not only were there proud students but there were many parents, grandparents, aunts, uncles and other family members proud as they could be as award after award was announced.
Mr. Miller has decided along with Mr. Joffre (high school principal) that having an Italy High School senior talk to the students of their achievements during the awards assembly would give the elementary students a look at what could be achieved with hard work and good attendance.
This time Kaytlyn Bales was chosen to come and speak at the awards assembly. This is what she said, "To achieve the best education you can get you have to start now. The only way to make good grades is to work hard, be persistent, practice good study habits now when you are young. High school is a lot more fun with good grades."
Kaytlyn has been accepted to Angelo State University. There she will study biology and hopes to first become a medical lab technician and later get her hospital administration degree.
There was someone else who was very proud of the students and that was Mr. Miller! Miller explained, "This is our third six weeks awards ceremony. It is a great experience getting the kids to come out of the classroom and be honored and let them know we appreciate their academic achievements. We are pushing the kids for their futures. These kids are the future doctors, lawyers, bankers. We have to let them know that academics is the number one reason they are here. It is not all about athletics even though athletics makes the whole child, it is about the academics right now and they are doing great."