Flying Dollar Ranch's World Championship Win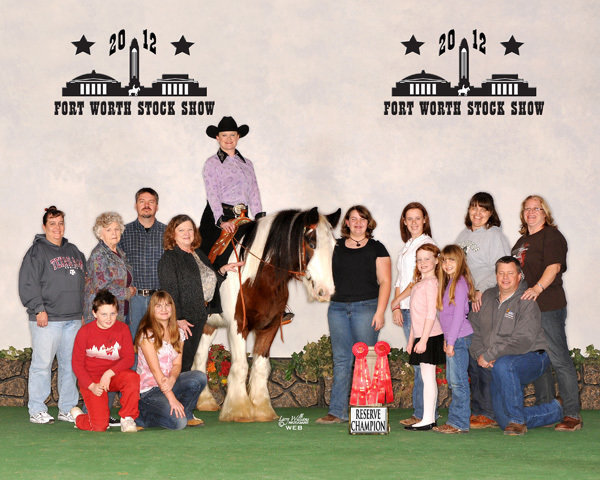 Flying Dollar Ranch brought home a World Championship and two Reserve World Championships to Italy last weekend after competing at the Gypsy Horse Registry of America's World Championship Show held January 27-29 at the Fort Worth Stock Show and Rodeo.
Horse Feathers Darby, a 9-year-old Gypsy gelding is owned by Sandy Neal owner of the Flying Dollar Ranch, and trained and shown by Julie Hinz, manager and riding instructor at the ranch. The team won World Champion Senior Gelding, division B (Gypsies over 14.2 hands), Champion Senior Gelding (best of both height divisions), and Grand Champion Overall Gelding (best of all geldings, all sizes and ages). In the halter class, the horse is judged on conformation, muscling, bone structure, breed characteristics and overall appearance.
"We were so excited to hear our name called out first over the John Justin Arena speakers. I started tearing up and I could see Sandy and my daughter Sadie jumping up and down like crazy. And then we just kept winning more and more as we moved up in divisions. It was so much fun," Hinz said.
Horse Feathers Darby also won a Reserve World Championship in Trail and English Walk/Trot. The trail class is full of obstacles that the horse and rider must maneuver through and are scored at their agility on each obstacle. Things such as bridges, gates, jumps, poles, mail boxes, etc., mimic what a horse and rider might find out trail riding. The English class is an 'on the rail' class and is judged on the horse's movement.
"Trail is Darby's favorite class because it keeps him thinking. He is very smart and a busy body by nature. He needs events that keep his mind busy and his body something interesting to do," explained Hinz. "Also, many of my 4-H kids and riding students were there on Friday night to watch him win his reserve championship. It was so much fun to have them cheering in the stands and to pose with us in the win picture."
The team also placed 5th in the color class and 6th in western walk trot.
The Gypsy Horse breed is an old breed in Europe, but relatively new to the United States and Texas. The nomadic gypsy people of Europe developed the breed from Shires, Clydesdales and ponies, to create a gentle, strong, and easy keeping breed. They had to be strong enough to pull the family wagon from town to town each day, gentle enough to tolerate large families with small children, and be able to stay fit and big with just grazing off the side of the road. The gypsy people were also clever in that they bred for color. The military would often confiscate horses for their countries' war efforts, but they only wanted dark, solid colored horses. So, an important part of the breed became lots of spots and color, so that the gypsy people would be allowed to keep their families' investments.
Neal, Hinz and the Flying Dollar Ranch plan to continue to show Darby in local shows and take him back to the world show in 2013.
"He was bred to be a driving horse, so I would love to become accomplished at that and push myself and little out of my element. I also want to win that world championship in Trail! It came down to just a few points between first and second place. I am very proud of him and his Grand Championship in halter," said Hinz.