Italy's Larry Mayberry, Jr. to play in FCA SuperCentex All-Star football game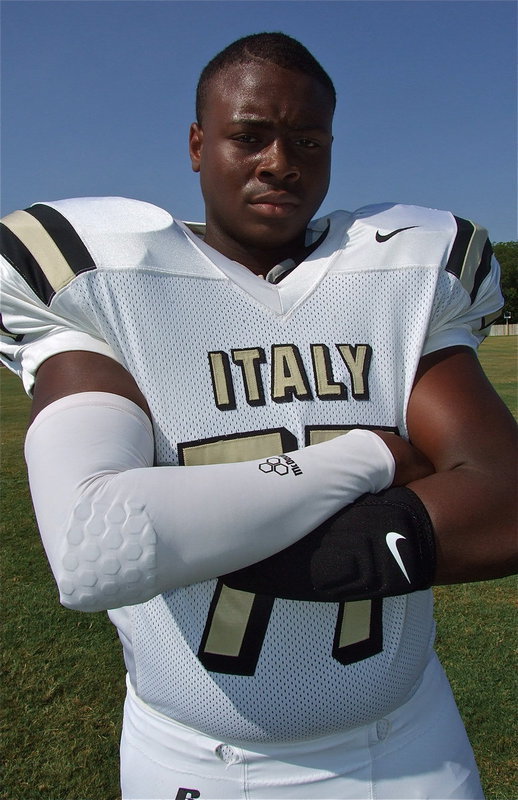 FELLOWSHIP OF CHRISTIAN ATHLETES SUPER CENTEX VICTORY BOWL
FCA holds press conference to announce players and cheerleaders:
Representing the Italy Gladiators in the 2011 FCA SuperCentex Victory Bowl will be 6' 4", 242 lb. senior, Larry Mayberry, Jr. On the grid-iron, Larry was a two-way starter for the 2011-2012 co-district champion Gladiators as a left defensive tackle and as a right offensive tackle. A well-mannered fellow off the field, Larry seemed anything but under the Friday night lights displaying the ability to dominate the line-of-scrimmage. Larry turned in one of his team's top plays this season with a 90-yard interception returned for a touchdown on Italy's home field. And what a grand moment it was! 
Being recognized for his talents on the turf and as a member of Italy High School's Fellowship of Christian Athletes, Larry has been selected as an All-Star player for the FCAs Red Team. Larry will be the second Gladiator to participate in the Victory Bowl as did Jasenio Anderson last year.
The FCA SuperCentex Victory Bowl is a real live football game pulling graduated seniors from 91 high schools in over 12 counties in central Texas. Members of each team were nominated by their high school coaches or sponsors following the 2011 football season. The final rosters were then selected by this years coaching staff. Ninety-two players, 20 cheerleaders, and 10 area head coaches have been divided into a red and a blue team that will compete at Floyd Casey Stadium on Saturday, June 9, 2012. Kick off will take place at 6:30 p.m.
Players and cheerleaders will arrive in Waco on June 6, 2012 for three days of practice and fellowship provided by volunteers in the Waco and surrounding communities. Each participant will stay at a home of host families throughout the city. In addition to practices and team fellowship, members of each team will participate in a football clinic as well as some service projects in the community. New to this year's Victory Bowl will be the addition of a high school marching band.
Larry will be responsible for $1,000.00 worth of expenses that are associated with participating in the game. The cost will cover lodging, meals, a page in the program, and up to 10 guests that can join Larry at his table during the FCA Victory Banquet on Sunday, April 22, 2012.
To help with the expenses, Larry is asking for sponsors to help him meet the requirements. We are all used to relying on Larry to come through in the clutch, but now, he is depending on us.
There are two ways sponsors can donate:
Two separate sponsors can each pay $500.00.
Ten separate sponsors can pay $100.00 each.
Please drop off donations at the Italy High School administration office, contact Larry directly at 972-921-3418 or by email: larrymayberry98@yahoo.com. You can also contact Barry Byers at 972-921-1231 or by email: barry.byers@monolithic.com.
Upcoming Victory Bowl Events:
Sunday, April 22nd – Victory Banquet (Ferrell Center)
Wednesday, June 6th – Players and cheerleaders report (Floyd Casey Stadium)
All Tickets: $5.00 – Gates open at 5:00 p.m.
Event questions, contact:
Ben Johnson
Phone: 254-717-5451
Email: heartoftexas@fca.org


Red Team 2011 Coaching Staff:
Tim Seward – McGregor
Ronnie Crumpton – Milford
Buddy McBryde – Ellison
Jerry Young – Wortham
Craig Boles – Holy Trinity


A list of both team player and cheerleader rosters can be viewed at http://fcawaco.org/victory-bowl. In addition to Larry, there will be a couple of other local players to watch for during the game. Calyn Davis representing the Avalon Eagles and Alan Singleton, Jr. representing the Milford Bulldogs will also be on the Red Team's roster. Also, Tori Williams will be representing the Frost Polar Bears as a Red Team cheerleader.
Good luck, Larry, Calyn, Alan & Tori!


Victory Bowl Records:


RED LEADS 3-0:
2009 – Red 29 – Blue 24
2010 – Red 20 – Blue 14 (OT)
2011 – Red 47 – Blue 21
Team:
Most Points Scored – 47 (2011 Red)
Most Passing Yards – 155 (2010 Red)
Most Rushing Yards – 198 (2009 Blue)
Most Sacks – 7 (2009 Blue)
INDIVIDUAL:
Offensive:
Passing Yards: Cody Vaughn (2010 Red) – 155 yards
Rushing Yards: Royce Asi (2011 Blue) – 120 yards
Carries: Marquette Wilson (2011 Red) – 19
Receiving Yards: Vencent Finley (2009 Blue) – 62 yards, Desmond Guy (2010 Red) – 62 yards
Catches: Vencent Finley (2009 Blue) – 7 catches
Touchdowns: Brelan Chancellor (2010 Red) – 2
Passing TDs: Weston Popham (2009 Red) – 2,
Defensive:
Tackles: Lee Bristow (2011 Blue) – 10
Sacks: Terrance Hollloman (2009 Blue) – 3, Ramon Allen Jr. (2009 Red) -3
Interceptions: Donavan Shumpert (2010 Red) – 1, Dylan Turner (2011 Red) – 1 (returned 33 yards for TD), Reagan Reich (2011 Red) – 1, Quinton Franklin (2011 Red) – 1
Specials:
Most FGs: 2 tied with one
Most XP: Scott Newberry (2009 Blue) – 3, , Colton Perkins (2011 Blue ) – 3
Longest FG: Scott Newberry (2009 Blue) – 50 yards