Avalon ISD one act play advances to the next competition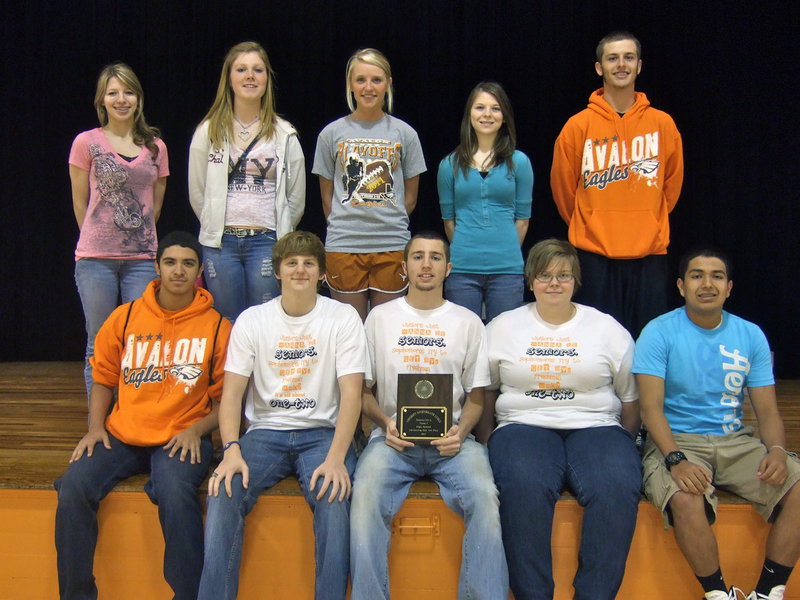 Avalon ISD participated in UIL one act play competition and performed Act Three, Scene Five by Terry Ortwein so successfully that they advanced to the district competition.
They not only advanced to the next competition but three of the students received all star cast medals and two students received honorable mention medals. All star cast members are: Nick anthony Dana Dixon and Megan Knight. Stephanie Gray and Danniel Ozymy received honorable mention.
Act Three, Scene Five is a comedy romance surrounding five students rehearsing act three scene five of Romeo and Juliet. Things are not going well. Inexperience, egos and jealousies are becoming more important than the play. The always touching sometimes comic, love story of Romeo and Juliet is paralleled by a growing offstage relationship.
The actors are:
Stephanie Gray (junior) plays the prompter. She said, "I am like the one that doesn't understand anything, I have a small but funny part, I play a very sarcastic character.
Nick Anthony (senior) plays the part of a jock that is starring as Romeo in Romeo and Juliet. He said, "I am supposed to be playing a jock. At the beginning of the play I like one of the girls and at the end of the play I like one of the other girls, the assistant director. I play a very sarcastic role. But I am always joking around, I am a very manly jock. I am brought back to reality and fall in love with a beautiful girl, the assistant director."
Danni Dixon (senior) plays Maggie the assistant director. "I am the very professional one out of all the other characters, very serious."
Danniel Ozmy (freshman) plays Jennifer the nurse. "I am kind of buddy buddy with Patty who plays Juliet in Romeo & Juliet.
Megan Knight (senior) plays Patty who plays Juliet. "I am a snob throughout the play. I am a typical high school rich girl, cheerleader. I had a lot of fun with my part."
The crew consisted of Carlos Pacheco (sophomore), Blake McCulloch (sophomore), Victor Ledesma (junior), stage man Colten Watson (senior) and Erica Ozymy (junior). Blake Mcculloch said, "I am part of the stage crew and I consider the crew to be the offensive linemen for the one act play because we have to set everything up and do little things to make them look good!"
Malcom Cole (one act play director) is the business teacher, coach and the one act play director. He said, "The kids are doing wonderful, they have worked so hard day in and day out when we practiced. It is a bunch of first year actors and actresses this year. They have done a great job adjusting to the things that had to be done for the play like memorizing their lines. If you have never had to do that before, that is pretty tough."
Cole continued, "I want to give a big thank you for all our district assistants, Stacey Burson, Brettne Cole and Teresa Harris. for all the hard work they have done, they have helped me out a ton. When I would be stuck in baseball practice they would take care of the play practices, it could not have worked with out them."
Way to "break a leg" Avalon ISD!