New members inducted into Italy's National Junior Honor Society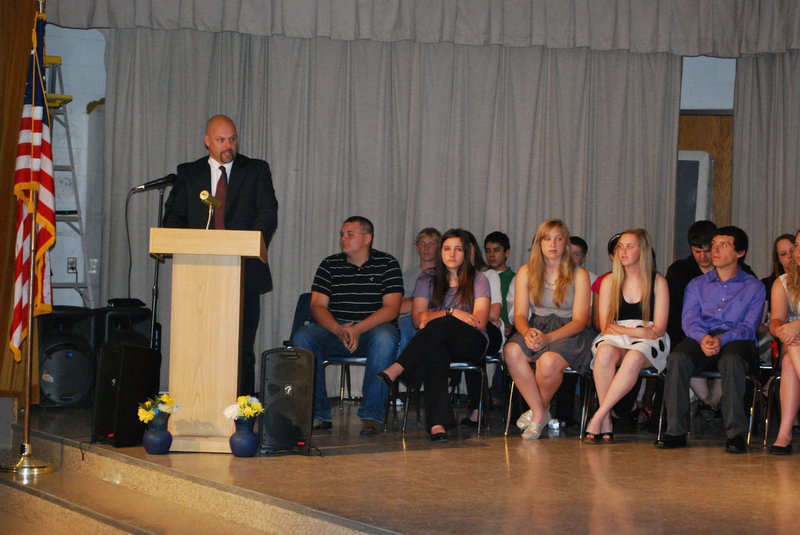 Last Thursday evening was a celebration of hard work and determination for students of Italy Junior High School as fifteen 8th grade students were sworn in as members of the National Junior Honor Society-Italy Chapter. Their induction is just a stepping stone of things to come for these students.
The National Junior Honor Society (NJHS) is the nation's premier organization recognizing outstanding middle school students who demonstrate excellence in the areas of scholarship, leadership, service, and character. The NJHS provides leadership development opportunities to prepare and empower students to serve their schools and communities.
Italy Junior High School — National Junior Honor Society

Newly Inducted Members



Kaci Bales
Britney Chambers
Ryan Connor
George Galvan
Julissa Hernandez
Amber Hooker
Ashlyn Jacinto
Zachery Lewis
Adrianna Martinez
Levi McBride
Andrea Munoz
Samantha Owens
Jozie Perkins
Lillie Perry
Ty Windham
2011 Members
Kelton Bales
Cody Boyd
Trevor Davis
Bailey DeBorde
John Escamilla
Bailey Eubank
Jaclynn Lewis
Alex Minton Felder
Chace McGinnis
Zachery Mercer
Kelsey Nelson
Devin Payne
Taylor Perry
Madeleine Pittman
Lupita Rincon
Alexis Sampley
Juan Suaste
Madison Washington
Kierra Wilson
Whitney Wolaver
New officers were also sworn in:
President: Levi McBride
Vice-President: Julissa Hernandez
Secretary: Britney Chambers
Treasurer: Jozie Perkins
Reporter: Samantha Owens
Outgoing Officers:
President: Kelton Bales
Vice-President: Alexis Sampley
Secretary: Jaclynn Lewis
Treasurer: Kelsey Nelson
Reporter: Chace McGinnis
Congratulations!!