Senior Night at the ballfields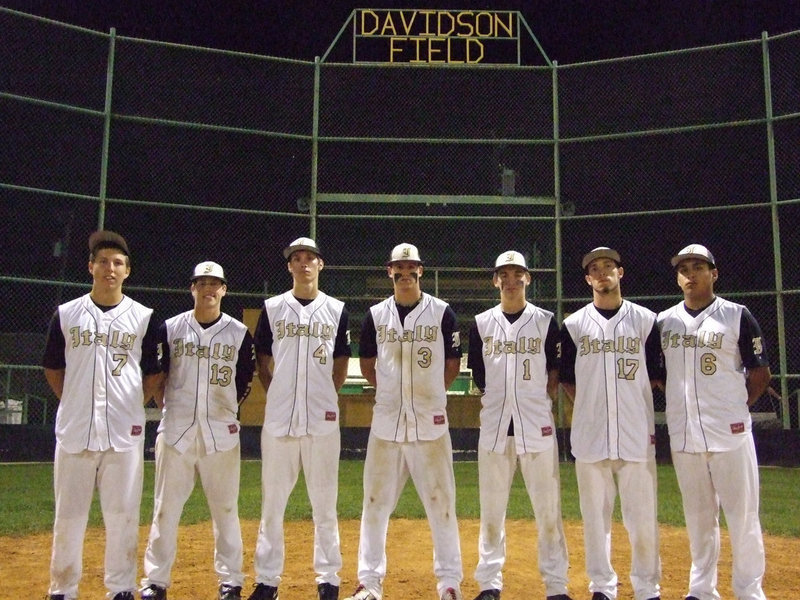 The Italy varsity baseball team hosted the Whitney Wildcats during district play on Tuesday night. This was the last home game of the season and in Gladiator tradition, the seniors were escorted to first baseline by their parents and family. This year the Varsity includes seven graduating seniors.
As moms and grandmothers were handed a rose by their player, the seniors received a framed picture of this season's games. Coaches Josh Ward and Randy Parks received photos as well.
Senior Gladiators:
Justin Buchanan #13-escorted by dad, Mark and grandmother, Linda Buchanan
Alex DeMoss #4-escorted by Mama Anne and Tommy Sutherland
Omar Estrada #6-escorted by mom, Maria Estrada
Jase Holden #3-escorted by dad, Shaun Holden
Kyle Jackson #7-escorted by parents, Gary and Sabrina Jackson
Ross Stiles #1-escorted by dad, Mark and mom, Clover Stiles
Brandon Souder #17-escorted by parents, Kristi and Mark Souder, and nieces, Taylor and Mayson
Honorary first pitch was thrown by team friend and school board member, Mark Stiles. Catching was Mark's son, Ross.
The Italy Gladiators took the field and senior, Ross Stiles started the game pitching. One point at a time for each side was the slow descend for the teams. During the innings, Italy switched pitchers 5 times and Whitney switched 4. In the 7th inning, Whitney let loose and handed the Gladiators their hats with the final score Whitney 13, Italy 8.
"Whitney is a much improved team from last year and from the last time we played them. They did a great job of putting the bat on the ball and putting pressure on the defense. We still have to work on not giving extra outs on defense and making the routine plays. We have done a better job of putting the bat on the ball the last couple games, we just have get some hits with runners on base," Coach Ward commented.
When asked how he will handle the varsity with 2 games left on the calendar, Ward said, "With two games left, I am going to approach them like they are just as important as the first games and finishing out the season on a high note. We need to focus on making the routine plays and getting timely hits with runners on base."
Italy varsity has two more games in the season. The next one is Friday, April 20 in Clifton. The JV game begins at 4:30 and varsity plays at 7:00pm.