Guns vs. Hoses additional images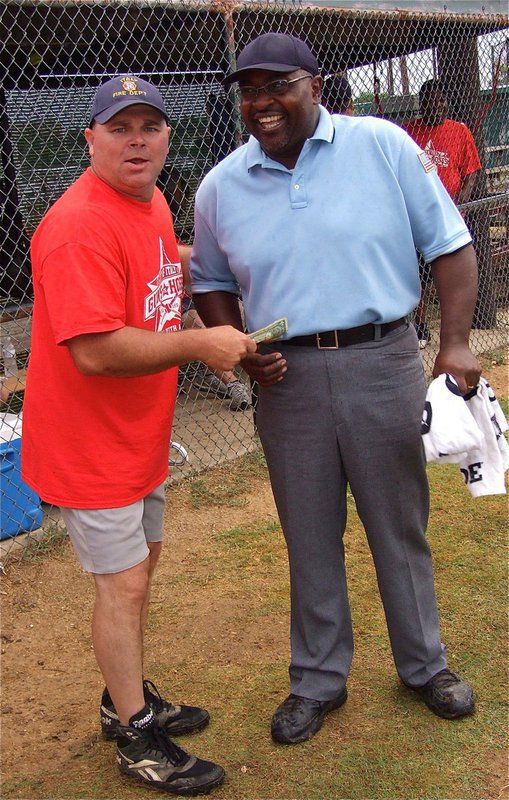 Upchurch Park, Italy — In an effort to raise money in support of their "Shop with a Cop" charity, the Italy Police Department joined forces with Italy Fire Department in a Guns Vs. Hoses softball game that thrilled fans and served up plenty of humor along the way
Whether it was Firefighter Randy Boyd being frisked in the batter's box, or Firefighter Jackie Cate claiming police brutality after a prolonged tag at second base, or the speed trap setup by officers Eric Tolliver and Jamie Thompson along the first base line using a radar gun and speed limit sign posting a 2 mph minimum, Italy's Finest and Italy's Hottest kept the laughs and the hits coming.
Outstanding pitching efforts by Brad Elliott for the I.P.D. and Red Buchanan and Jackie Cate for the I.F.D. kept the game rolling along at a nice pace. Bobby McBride played a key role for the firefighters at first base while Officer Daniel Pitts was just as reliable for the force covering first base.
The firefighters led early but a few timely home run shots by the I.P.D. and a couple of clutch catches by center fielder, Officer Shelbee Landon, allowed Chief Hill's heroes to rally back to win the game. However, the ultimate winners will be the kids and their families that will benefit in December from ongoing fundraising efforts to support the "Shop with a Cop" charity.
After a second game played between a citizens team and a combined team of both officers and firefighters, a 15 minute fireworks show lit up the night sky that could be seen from miles away to cap off a fun night for the City of Italy.
Although there was plenty of stretching going on before the coin toss, there were no city workers harmed in the making of this video with the rehab truck seeing little action.