Italy cheerleaders participate in Dale Hansen Football Classic commercial shoot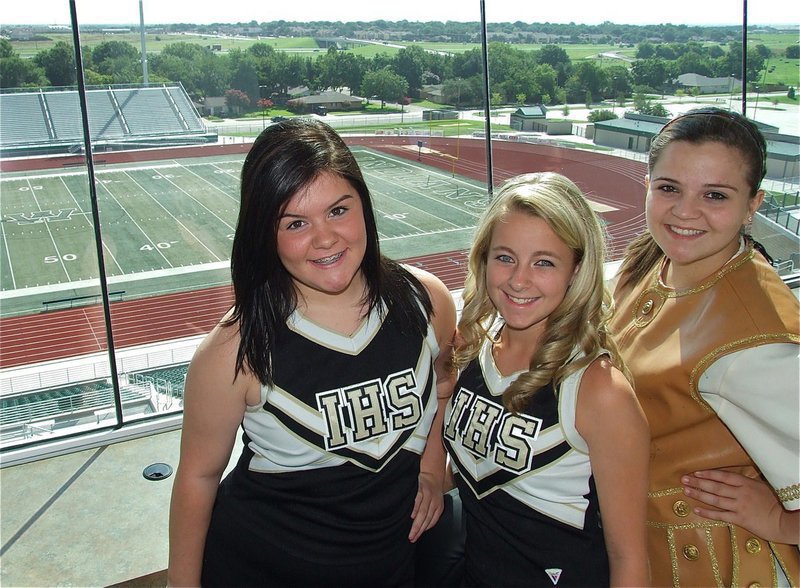 On Tuesday, July 24, Dale Hansen, himself, appeared at Stuart B. Lumpkins Stadium in Waxahachie to shoot the first commercial for the inaugural 2012 Dale Hansen Football Classic. Two cheerleaders from each participating team and their school mascots were on hand, as well, and will be featured in the commercial. The commercials will run on WFAA, Channel 8 three weeks leading up to the event!!
Representing the Italy Gladiators were cheerleaders Bailey DeBorde and Britney Chambers and beloved Gladiator mascot Reagan Adams and fill-in cheer sponsor Kim Varner. The cheerleaders added flair to short segments to be utilized throughout the commercial while the mascots performed touchdown scoring plays with Mr. Hansen as the quarterback. Each touchdown was followed by end zone celebrations that had the award-winning announcer laughing out loud! 
This inaugural high school sporting event will take place September 7 and 8, 2012, in the new state-of-the-art Stuart B. Lumpkins Stadium located in Waxahachie, Texas were the commercial shoot took place.
Special thanks to the Dale Hansen Football Classic title sponsors for realizing and believing in the vision! to showcase Texas High School Football!!
Title Sponsors:
WFAA Channel 8
Chick-fil-A of Waxahachie
City Credit Union
H-E-B
Gold Sponsors:
Event coordinators are super excited to announce that 106.9 FM The Ranch will be the "Official Radio Station of the Dale Hansen Football Classic!" Thanks Ranch Radio for believing in the vision to bring a Football Classic to the Waxahachie (Ellis County) area!!!
Also, the Waxahachie Convention & Visitors Bureau is much appreciated for becoming a Gold Sponsor for the Classic!


Game Times:
Saturday, September 8 — Florence Buffaloes vs. Thrall Tigers @ 4:00 p.m.
Saturday, September 8 — Alvarado Indians vs. Mexia Blackcats @ 7:30 p.m.


Dale Hansen Football Classic Ticket Information:
Friday, September 7th: $5 Pre-Sale/$8 Game Day
Saturday, September 8th: $7 Pre-Sale/$10 Game Day (Includes both games on Saturday)
CLASSIC PASS: $10 (Includes all three games and is same price for Pre-Sale or Game Day).
Most likely, the "Pre-Sale" will take place one week prior to the Classic.


Follow the latest news regarding the Classic on Facebook — Be sure to click the "Like" button!
We hope to see everyone at the Dale Hansen Football Classic!!!