Megan Richards signs letter of intent to play softball at UT Permian Basin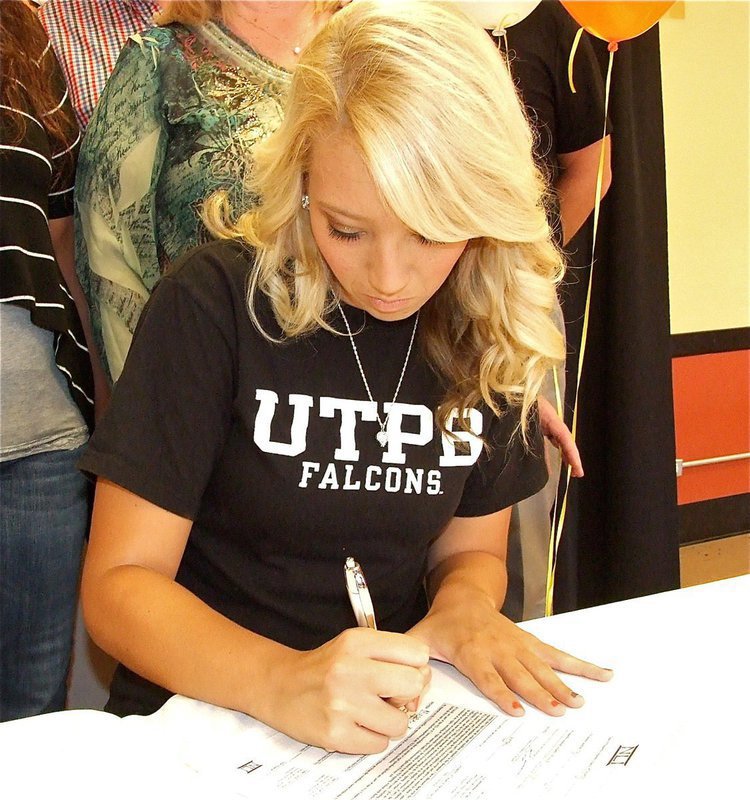 Italy — After another outstanding season as the mound leader for the Italy Lady Gladiators, recently graduated Megan "Rich" Richards, the oldest daughter of Tina and Allen Richards, signs a Letter of Intent to play softball at the University of Texas at the Permian Basin in Odessa.
Megan was surrounded by family and fans while signing her commitment to become a UTPB Falcon inside the Italy High School Cafeteria with school superintendent Barry Bassett, her Lady Gladiator assistant coach and mother Tina Richards, long time pitching coach Jerry McGinnis and her Kruzers Gold select baseball coach Ron Withee all present. In fact, the head count of family members, coaches and fans neared 50, all smiling and cheering for Megan and her family!
The accomplished pitcher pitched all four years as a member of the Lady Gladiator Varsity squad capping off her career by being named to the 2011-2012 2A All-State Softball Team by the Texas Girls Coaching Association. This past season, Megan was awarded Pitcher of the Year after this past season in 2A Region II District 15 for the Lady Gladiators and helped lead her squad to an Area Championship and before finishing as Regional Quarterfinalists.
Her grandfather, Greg Richards, held back tears while commenting, "I'm proud for Megan. She worked her to get to where she is and I know she'll do great at job, not just on the softball field, but as a student at UTPB, as well. I'm glad she will be relatively close so we'll get to see her. I'm just really proud of her. I hope to do all this again next year with Alyssa."
Alyssa Richards, a junior at IHS, was Megan's emotional support behind the plate the past few season's, and like her big sister, was also named to the 2011-2012 2A All-State Softball Team. Both managing to equal their father who was an All-State quarterback for the Gladiators. In fact, Megan wore Allen's #17 throughout her senior year to honor him while Tina was just a dugout away whenever the girls needed encouragement.
As Megan reached for the pen and begin to sign, only the sound of camera clicks could be heard followed by a roaring applause after the final document had been signed. Megan beamed as guests enjoyed punch and cake while she posed for pictures with everyone wanting a photo with the UTPBs newest Falcon!
Congratulations, "Rich!" Thanks for all the unforgettable moments!!