Friends gather for community center dedication and for return of the Italy Opry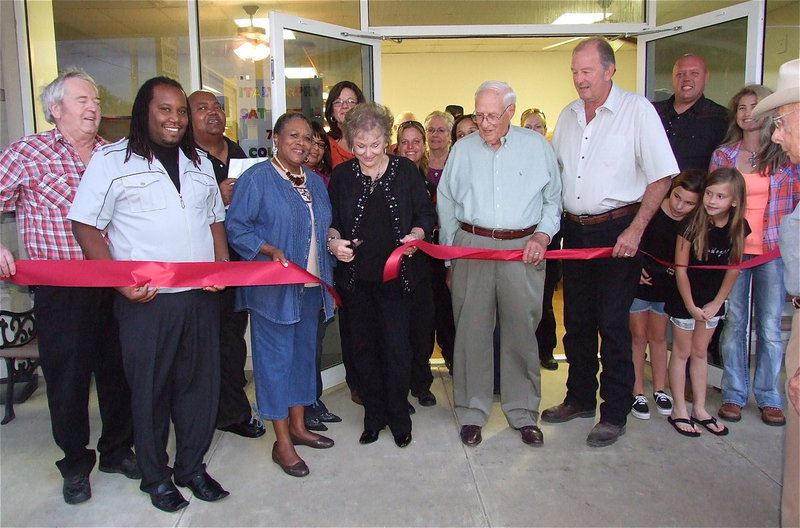 Italy — On Saturday, October 13, Mayor Frank Jackson and the City of Italy hosted a ceremonial ribbon-cutting in dedication of the town's new community center in conjunction with the return of the Italy Opry, which was having it's own re-band opening, you might say.
Previously owned and operated by the Wayne Boze Funeral Home, the community center will now be available to accommodate parties, business functions, weddings, booths during festivals and more.
Joyce Hobbs, who owns Hobbs Feed and Supply of Italy along with her husband, James, did the ribbon-cutting honors along with other EDC board members, city councilman and city employees who were on hand, including: Greg Richards, Dennis Perkins, Mayor Frank Jackson, Elmerine Bell, Manuella Barton, Terri Murdock, Sergeant Tierra Mooney, Sue Lauhoff, Clarice Crocker, Tom Little, Officer Shelbee Landon, James Hobbs and Rhonda Cockerham.
Cookies and punch were provided by the city along with hot dogs, hamburgers, sweet treats and popcorn provided by the First Baptist Church of Italy.
The Italy Opry re-established itself Saturday night as well after being without a permanent location in which to perform for nearly two years. On hand to help commemorate the dedication was a currently forming band known as, "Alzheimer's," I mean, "Good Timers," as band members joked with the audience. The band also discarded another possible band name, "Triple Bypass," as a someone yelled from the back of the room. Brad Daniels, lead guitar and vocalist for the band, also acted as MC and comedian.
The Italy Opry has been without a meeting place for almost two years in June as old friends shook hands and hugged excited about the second chance to play beautiful music together. The Opry will showcase many different performers often giving a youngster a platform in which to hone their skills. When not performing, the entertainers will join the audience and kick back and relax.
Also, those associated with the Opry took time to reflect on the past. The Italy Opry is considered the legacy of the late Sammy Wolaver who, with his Italy City Limits Band members, which included Joe Bradley, John Goodman and Howard Bright, had a vision back in 1996.
"At first we played five Saturdays during the month of November but the crowds would dwindle down each weekend so the decision was made to just play one Saturday each month. Sammy passed before the first installment of the Italy Opry and it's once-a-month format but the vision lives on," explained Joe Bradley.
Midred Gentry who owned The Italy Press during this special time in our town's history, attended the Opry with her husband John, who also performed on Saturday. Mildred brought old black and white photos of Sammy and the Italy City Limits Band from when the band took the entertainment industry by storm.
Sam Dyar thanked Pat Bradley for all her efforts in revitalizing the opry by saying, "We have to thank Pat, she's our warhorse." Dyar also thanked the City of Italy and Mayor Jackson and everyone that helped with the dedication ceremony.
Marilyn McConnell wrote the following theme song after the Italy Opry no longer had a community center to showcase their talents back in 2009:
The Italy Opry Theme Song (Revised)
Now Let's not hear a cry
Because it's not goodbye
It's just "so-long", my friends
There's many songs to be sung
So we've just begun
This certainly will not be the end
We've had good times a pickin' and a grinnin'
And made so many friends along the way
Memories so sweet, we'll always keep
In our hearts, forever they'll stay
So as we part for now
Let's not wonder how
We'll live without the goo ol' op-er-y
Though there's not another show
There's one thing we know
Good friends we will always be
Written by:
Marilyn McConnell
October 17, 2009
What do you think, Marilyn? Perhaps the Italy Opry theme song could use a few new revisions now that everyone, once again, has a place to come together and play and hear country music, socialize and laugh between sets…and sometimes during.
The Italy Opry will continue every second Saturday of each month starting at 7:00 p.m. and will wind down around 9:00 p.m., give or take a song or two. You are all invited to attend and hear songs ranging from gospel, to old and new country with a little something for all ages.