Alyssa Richards accepts softball scholarship to Tennessee Tech University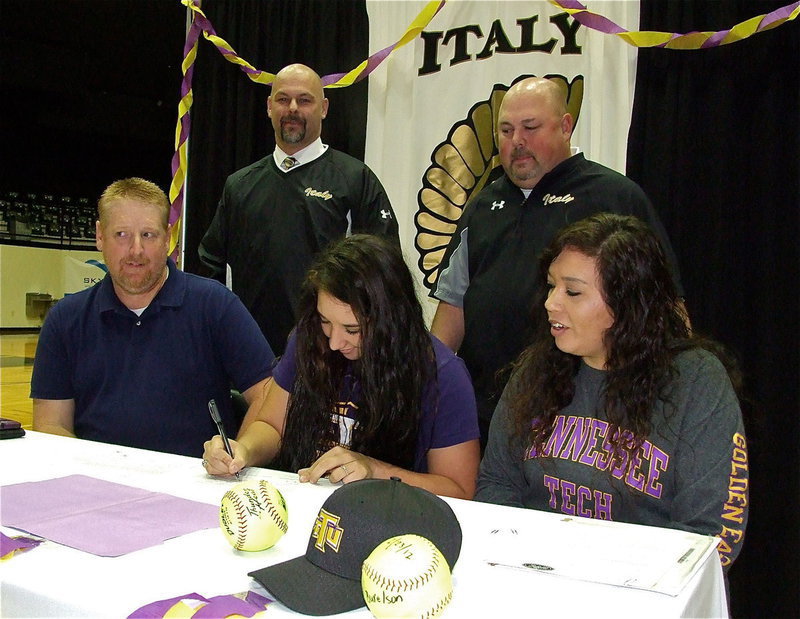 Italy — Senior classmates, teammates, fans, family, faculty and coaches were on hand inside Italy Coliseum to witness and show their support for Italy's own Alyssa Richards who signed a Letter of Intent to play softball for the Golden Eagles of Tennessee Tech University.
Alyssa, an all-state catcher for the Lady Gladiators, belted in 9 home runs last season and possesses all the skills a field general from behind the plate should have. Richards can throw out base runners from her catching stance without wasting time to rise and/or step toward the base. Even her deliberate tosses back to the mound are enough to intimidate opposing dugouts.
Most importantly, TTU is getting a true competitor that is determined to win and gives everything she can to the sport. Richards participates in year round softball as well as competing for the Lady Gladiators. But it's the countless hours behind the scenes that her parents, Allen and Tina Richards, have spent with their daughters to help them each be successful.
All those batting cages, all those pitches from dad and all the advice and words of encouragement from mom, who happens to be an assistant softball coach for Italy. As a reporter for Italy Neotribune, I have often wondered what "Coach Mom" was saying to her daughter as Alyssa stood on first ready to run, or as the slugger rounded the first base during a homerun victory lap? No doubt, a ball bucket full of special moments.
Richards has seen a lot of sand traveling from field to field and has left her cleat prints on them all. Good luck to Alyssa and her Lady Gladiator teammates during their upcoming season and congratulations to Alyssa and her family on such a happy occasion. And a big congratulations to Tennessee Tech, "You have chosen a winner!"
Go Golden Eagles!