Brandon Connor and Ty Windham win Fort Worth Stock Show & Rodeo calf scramble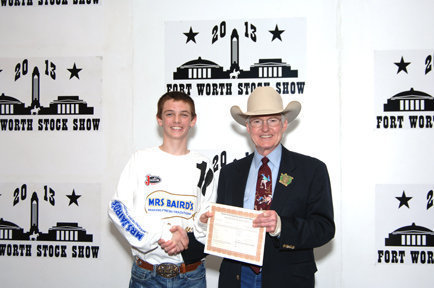 Brandon Connor and Ty Windham, both members of the Italy FFA, were among the winners in the Calf Scramble event during the February 6 performance at the 117th edition of the legendary Fort Worth Stock Show & Rodeo. Brandon's parents are Summer Douglass and Stephen Connor. Brandon's award was sponsored by Frank Kent Cadillac of Fort Worth. Ty's parents are Joe and Andi Windham. Ty's award was sponsored by Monosol LLC of Merrillville, Indiana.
The Calf Scramble, which allows 16 students to compete at each of the 30 rodeo performances, has eight winners each performance. The young people are high school students out to catch and halter a calf with hopes of winning a $500 purchase certificate that will help buy a registered beef or dairy heifer for a yearlong 4-H or FFA project.
Winners must care for their animals throughout the year and return for the 2014 Stock Show to exhibit it in the Junior Heifer Show. Those who do the best job will be in line for scholarship funds when they enter college. Last year, scholarship grants were made to 85 young people totaling $143,500.
All entries receive a special T-shirt with their contestant number. Participants who fail to catch a calf receive a certificate for a pair of Justin boots. Mrs Baird's Bakeries and Justin Boots have sponsored this event for many years.
The 118th annual Fort Worth Stock Show & Rodeo will take place Jan. 17-Feb. 8, 2014 at the world-class Will Rogers Memorial Center. The Stock Show features 23 days of family fun and entertainment, and will host an estimated 25,000 livestock entries throughout the run. In addition to the prestigious livestock competitions, the Stock Show offers many interactive educational exhibits, great shopping in the trade show area as well as an exciting carnival and midway and 30 thrilling performances of the World's Original Indoor Rodeo®. For information, call 817.877.2420 or visit www.fwssr.com.