Italy parade honors recent sports heroes from Italy High School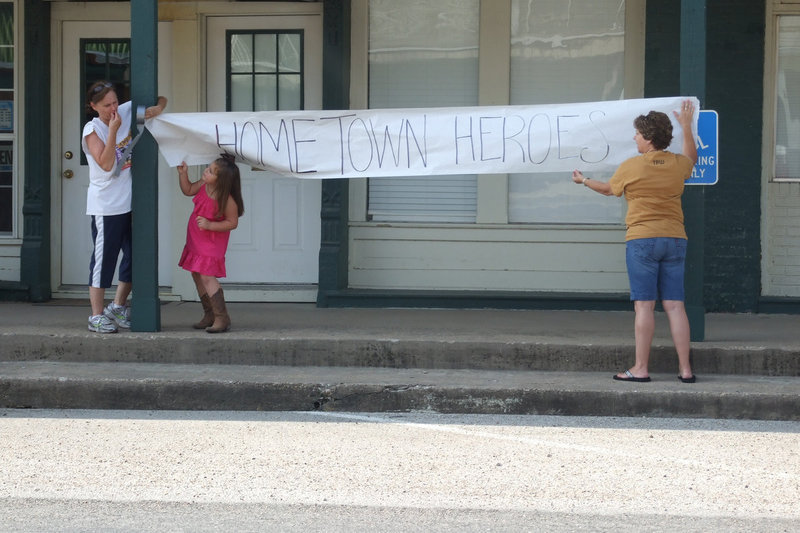 Italy — With several sport achievements by student-athletes from Italy High School culminating around the same time, the school, in conjunction with the City of Italy, held a small but enthusiastic parade to honor the school's sports heroes on their recent accomplishments.
With the Italy Police Department providing an escort with siren blaring, as well as sealing off streets, the Italy Baseball team was at the front of the convoy as fans gave the players and coaches a warm sendoff with the bus on its way to Forney for game two of their regional quarterfinal matchup against the Trenton Trojans.
On foot, but close behind were representatives from the Gladiator Regiment Marching Band who have also had an incredible year filled with many awards and successes. Band director Jesus Perez hammered the drums while Reagan Adams, Gus Allen, Whitney Wolaver and Brenya Williams helped to create an electric vibe as the parade made its way between store fronts lining main street in downtown Italy.
Following the band were several members from Italy's Softball Team that recently finished their playoff run as 2013 Area Champions. Next in line were Italy Track stars' Kendra Copeland, Halee Turner and Ryisha Copeland who medalled at regionals to competed in the State UIL Track Meet held at the University of Texas Campus this month.
Although, you will usually find her out in front of the pack, bringing up the rear of the champions' procession was sophomore Kortnei Johnson who broke two 1A State track meet records, in both the 100 Meter Dash and the 200 Meter Dash, to earn a pair of gold medals while in Austin. Waving from a red convertible driven by Italy HS principal Lee Joffre, Johnson's bright smile truly captured the spirit of the parade.
Congratulations to all our Italy High School's student-Athletes for your efforts during the 2012-2013 school year and especially to our talented senior class who did well in adding to the winning traditions. Collectively, the senior girls and boys went to the playoffs in 5-out of-6 of the mainstream sports including, football, girls basketball, boys basketball, softball and baseball.
Help send Kortnei Johnson to Nationals in Florida
Italy Pride