Italy's playoff run detoured by Trenton after game two of regional quarterfinal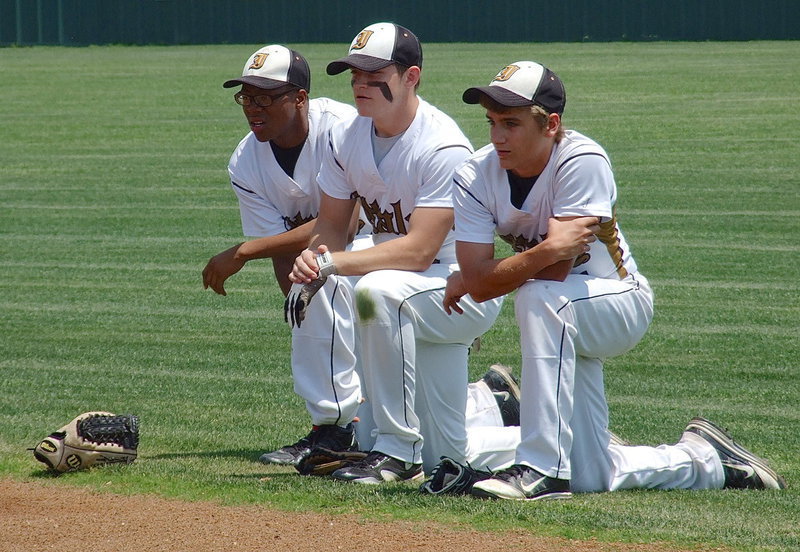 Forney — As the clash raged on between Italy and Trenton to decide the regional quarterfinal championship, Trenton had the advantage and led the series 1-0 after winning the first game of the best two-out of-three on Friday night by holding off a late Gladiator rally to win 2-0
On Saturday, Tyler Anderson, a junior, was on the mound for Italy with, freshman, Ryan Connor behind the plate. Cole Hopkins at first, Reid Jacinto at second, Caden Jacinto at short and Marvin Cox at third made up Italy's starting infield while left fielder Kevin Roldan, center fielder Chase Hamilton and right fielder Hayden Woods covered the outfield.
Italy had to win game two in hopes of forcing a deciding game three later in the day but Trenton was still riding a wave of momentum from the previous night and and quickly built a 5-0 lead by the top of the third-inning.
Early on, with Reid Jacinto at first, Cox hit a single to advance his teammate around third. Head coach Josh Ward held up the runner there and Reid Jacinto stomped on the breaks and hurried back to the third base bag. No doubt, Coach Ward remembered the close play from the night before in which Reid Jacinto was tagged out trying to slide home and, therefore, opted not to take the chance. Unfortunately for Italy, Reid Jacinto was unable to make it home and the scoreboard continued to be one-sided in Trenton's favor.
Italy answered in the bottom of the fourth-inning when sophomore designated hitter, John Byers, singled to score Reid Jacinto and Marvin Cox to make the score 5-2. Later in the sixth-inning and trailing 6-2, again Byers had a chance to knock in more runs with Roldan on first after being walked and with Cox on second. Byers hit a chopper to third that Trenton converted into a 5-3 double play to get out of the jam.
The Gladiators took one last stab at a comeback during final at bat. A single by Hopkins and another by Connor, gave Italy runners on the corners. Hamilton went in to pinch run for Connor at first with Caden Jacinto at the plate facing two outs. The senior struck out swinging, as a soldier would, allowing Trenton to secure the game two win and the regional quarterfinal championship for the Trojans.
The Gladiators gave it all they had but came up short with Trenton advancing in the playoffs after winning the matchup, 8-2. Trenton's hit total topped Italy 10-3 and was the difference in the game. Roldan, Hamilton and Woods did what they could in the outfield to keep Italy from falling too far back, but credit Trenton's bats.
Once in the playoffs, anything other than winning your final game is hard to bear but Italy was gracious in defeat and congratulated Trenton's players immediately following the contest in a display of sportsmanship.
The Gladiators finished as the 2013 season as district champions, area champions and regional quarterfinalists with Coach Ward and assistant coach Brian Coffman guiding the team through every hit, catch, out and run along the way.


Italy Baseball 2013 Playoff Roster
| | | |
| --- | --- | --- |
| Jersey | Gladiator | Class |
| 1 | Levi McBride | Freshman |
| 2 | Caden Jacinto | Senior |
| 3 | Marvin Cox | Senior |
| 4 | Cody Boyd | Sophomore |
| 5 | Reid Jacinto | Senior |
| 6 | John Hughes | Senior |
| 7 | John Escamilla | Sophomore |
| 8 | Hayden Woods | Senior |
| 9 | Cole Hopkins | Senior |
| 10 | Chase Hamilton | Senior |
| 11 | Tyler Anderson | Junior |
| 12 | Ty Windham | Freshman |
| 14 | Kyle Fortenberry | Sophomore |
| 16 | Kevin Roldan | Junior |
| 17 | Ryan Connor | Freshman |
| 18 | John Byers | Sophomore |
Manager: Ty Hamilton


Gladiator Pride