Dustin Duke and Austin Cate impress Baylor coaching staff during baseball clinic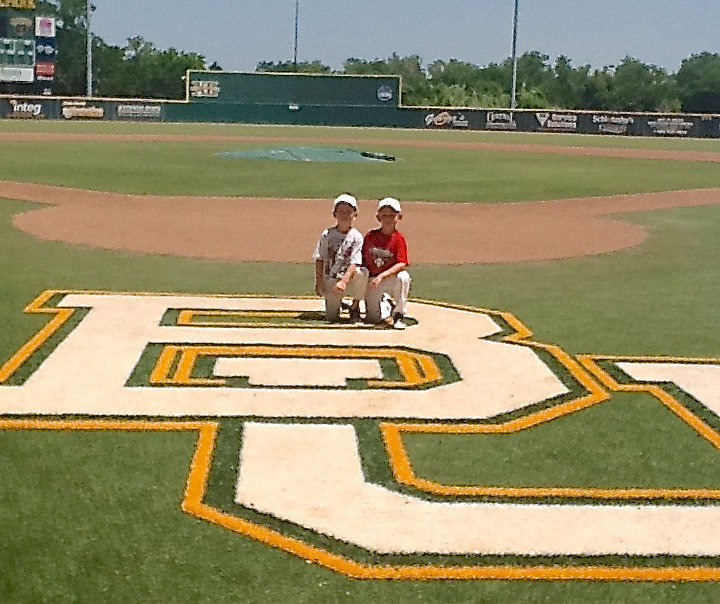 Waco — Local 7-year olds Dustin Duke and Austin Cate represented Italy during a recent baseball clinic held at Baylor University from ages 7-12 with Duke earning 1st Place in the fielding competition and being named, "Camper of the Week," while Cate swung his way to 3rd Place in the batting competition.
http://www.youtube.com/edit?video_id=KcMardYs3BM&ns=1
The focus of the camp was basic fundamentals with Baylor's Baseball coaching staff working in detail to improve the hitting, throwing, fielding and base running of each camper. Campers were also schooled in the intricacies of team defense.
Campers were grouped by age level and competed in a daily scrimmage Monday thru Thursday. Approximately 40 campers were in the 7-9 age group, which included Duke and Cate, while 30 campers made up the 10-12 age group.
On the final day of the camp, campers were tested on all the fundamentals with Duke and Cate catching the eye of the coaches despite being the two youngest of the camp participants.
A member of Baylor's coaching staff told Dad/Coach Jackie Cate, Austin's father, that, "Those two Italy boys were the best mannered boys at camp." In fact, the coaches nicknamed Austin, "Little Italy," after watching the pint-sized slugger draw attention to himself and where he is from with every crack of the bat. "Both of the kids from Italy were well-mannered and respectful."
At the camp's conclusion, campers gathered for a final awards presentation. A member of the Baylor coaching staff described how the top camper was going to be the player who always answered, "Yes Sir," and, "No Sir," when addressing the coaches, encouraged his teammates at all times, hustled between drills, didn't speak out of turn, raised his hand before he spoke, gave it 110% on and off the field, displayed good sportsmanship, listened to the coaches critique and applied it to camp, stayed after camp to help keep the field and dugouts clean, and showed maturity by not arguing a call after being called out on a play.
"That was the type of stuff we were looking for and want to give out an award for," explained the coach. "The winner representing group one as, Camper of the Week, is Italy's Dustin Duke!"
Parents Shane and Tina Long were on hand to witness the amazing accomplishment with Mrs. Long admitting to immediately turning on the water works when hearing the announcement.
Congratulations to both Duke and Cate on their camp accomplishments. All of Italy is extremely proud of how well each of you represented your hometown!
Special thanks to Tina Long for this submission to Italy Neotribune.