Area students test for new belts at the Hillsboro Unified Tae Kwon Do School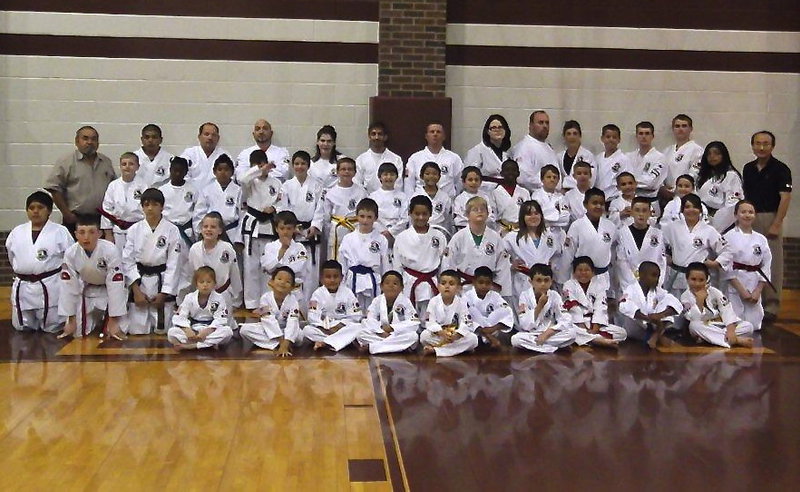 On June 1st, 2013, students from the Hillsboro Unified Tae Kwon Do School tested for new belts. On the panel was Grand Master KeeBee Park-Houston, Master Charles Kight-Chief Instructor and several Black Belts and Black Belt Candidates,
Students are required to perform patterns, break boards and spar in order to advance to new belt levels.
White Belts testing for Yellow Stripe Belts were: David Ha-Grandview, Miguel Funentes, Jr.-Hillsboro, Noah White-Itasca, Jaren Chapman-West, Keaton Pustrjovsky-Abbott, Antonio Procopio-Blooming Grove, Clayton Tribble-West, Craig Tucker-Clifton, Michael Michalewicz-Itasca, Seo Young Ha-Grandview and Kathryn Ekness-Hillsboro.
Yellow Stripes testing for Yellow Belts were: Michael Russell-Italy
Yellow Belts testing for Green Stripes were: Jayson Orr-Hillsboro, Tanner Marak-West, Jacob Divin-West, Miguel DeLuna-Hillsboro, Bobby Tijerna-Hillsboro, and Roy Gallardo Jr.-Hillsboro,
Green Stripes testing for Green Belts were: Arlee Fossett-Hillsboro, Bailey Armstrong-Waco, and Jacob Garcia-Hillsboro.
Green Belts testing for Blue Stripes were: Kyla Parks-Hillsboro, Luis Rodriguez-Hillsboro and Esteban Ramirez-Hillsboro.
Blue Stripes testing for Blue Belts were: KeTreyon Thomilision-Hillsboro and Jacob Young-Hubbard
Red Stripes testing for Red Belts were: Nick Sam-Italy, Xanden Stewart-Hillsboro and Michael Smith-Grandview
Double Black Stripes testing for Black Belt Candidiates were: William West-Whitney, Joaquin Trejo-Hillsboro, Thomas Drennan-Grandview, John Drennan-Grandview, Elizabeth Moore-Abbott, Katherine Drennan-Grandview and D'Ann Drennan-Grandview.
Black Belts testing for 2nd star were: Isamar Perez-Milford and Mario Perez-Milford.
If you are looking for a sport to help you or your child with discipline, self-control, focus, setting goals, and great exercise contact the Hillsboro Unified Tae Kwon Do School at 582-5111 or email kkight@hillsboro.net and ask for an information brochure and DVD.
Class Times:
Monday, Wednesday and Thursday at 4:45 p.m., 5:45 p.m. and 6:45 p.m.
(The first two classes are free and parents are always welcome.)
Location:
Hillsboro Unified Tae Kwon Do School
125 West Elm
Hillsboro, Texas 76645