That was a close one! Gas line explosion in Milford spreads clouds of concern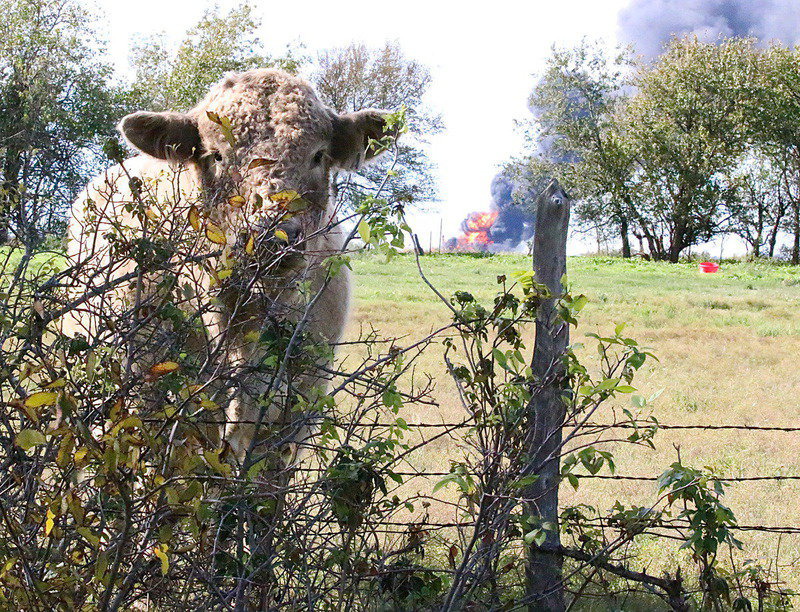 MILFORD — As reported, a Chevron liquified petroleum gas pipeline exploded just south of Milford off of FM 308 and Highway 77 this morning around 9:30 a.m. resulting in a complete evacuation of the town's more than 700 residents. Even the few grouches they boast of on their town's welcome sign were willing to leave.
The majority of the evacuees, especially the students, were bussed to the Italy Coliseum dome located on the campus of Italy High School in neighboring Italy. Many more arrived at the campus on their own accord with senior student volunteers directing them to available parking areas. Shad Newman, Kevin Roldan, Bailey Walton and Taylor Turner were among the Italy HS seniors assisting the evacuation.
At the explosion site in an open pasture, several construction vehicles erupted into flames but, luckily, no injuries were reported regarding the crew that was working near the rig, nor were any injuries reported to citizens, rescue workers or livestock. Also, no structure fires were reported as a result of the ongoing fire ball.
With the Italy and Milford Fire Departments dispatching all their man-power and emergency vehicles to better deal with the situation, other departments were called in to remain on standby at both departments with the Blooming Grove Fire Department covering Italy.
The line was eventually capped via valve cutoffs, contained and left to burn itself out. There was, however, a serious concern that a larger gas line nearby could explode as well, and therefore, the area was evacuated and the tiny town of Milford was basically closed.
As the morning wore on, flames continued to shoot into the air and large rolls of smoke followed the breeze in the direction of Milford and beyond. The streaming dark cloud of smoke could be spotted for miles and miles and signaled concerned family members to call in and check on loved ones.
The area quickly became saturated with film crews including Channel 8, Channel 5 and Channel 11 out of Dallas. A news helicopter circled the area from above to capture the intensity of the scene as more and more citizens arrived at the dome in Italy hoping for refuge.
The Red Cross setup bunks and meals were provided Black-eyed Pea out of Hillsboro and Joe Barton. Italy ISD principal Lee Joffre said, "Displaced area residents can come to the dome for meals, showers and sleeping quarters. Italy High School will provide continued assistance until the situation ends."
Milford residents were told the afternoon that they may not be allowed to return to their homes for another 24 to 36 hours. Friday's classes in Milford have been cancelled. There have also been several road closures in the area so avoid traveling in this section of Ellis County.
Everyone's efforts in helping to care for those evacuated is truly appreciated. Be safe out there!
Dial 911 In Emergencies