Hyles, Hobbs dedicate Walking trail at Upchurch Ballpark in Italy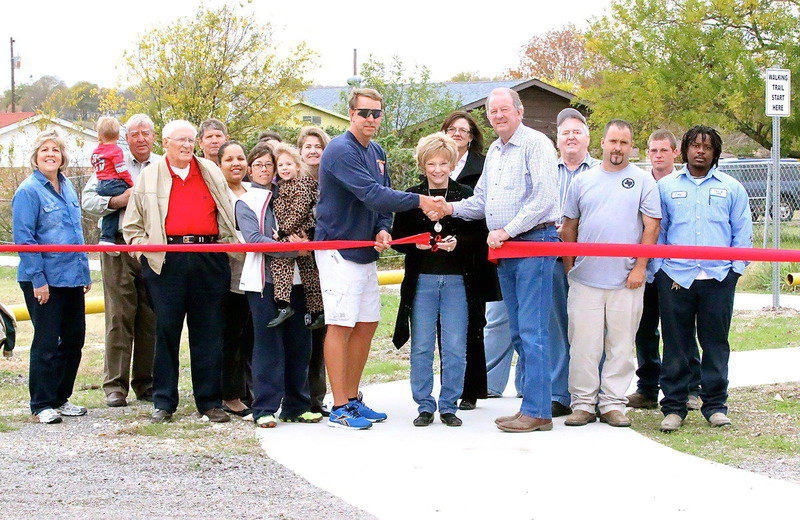 Italy — The Upchurch Ballpark in Italy has experienced another major upgrade. On Wednesday of last week, the City of Italy mayor, James Hobbs, his wife, Joyce Hobbs, and IYAA president/Italy EDC board member, Charles Hyles, dedicated a newly installed walking trail that completely encircles the facility as officially ready for use.
Italy is already known for its annual Tour de Italia for bike riders that covers many parts of the county. The new walking trail is a more scaled down version of that but it's certainly growing in popularity, especially with those interested in exercising and keeping fit.
"The new walking trail is a comfortable 7 feet wide for couple walkers, or joggers, and also allows for safe passing," explained Charles. "The width is only 1 foot shorter than Waxahachie's trail and is just under half a mile by 296 feet. A person can choose to walk either clockwise or counterclockwise since we have the same signs posted in either direction to mark the progress. Many of our town's most avid walkers have switched to the new trail after finding it to be a smoother walking experience than the rougher streets surfaces."
Charles thanks the Italy EDC and the City of Italy for allowing him complete the project along with his father and former city council member, Jimmy Hyles, and Charles's sons Creighton and Case Hyles and their schoolmate Jose Luna.
The first major improvement occurred a couple of summers ago when the City of Italy had overseen the construction of an impressive metal concessions structure that has also been used to host parties, meetings and sporting events. With the new trail in place and plans for additional upgrades to come, Upchurch Park is quickly becoming a happening year-round hangout.
Located directly between the elementary school and high school off of Dilworth Street, Upchurch Ballpark has always been a place for local youth organizations such as the Italy Youth Athletic Association and church leagues to participate in sports ranging from baseball and softball to football and soccer. Now, with the walking trail in place, it has truly become a park for all ages.