$2,500.00 grant awarded to Avalon ISD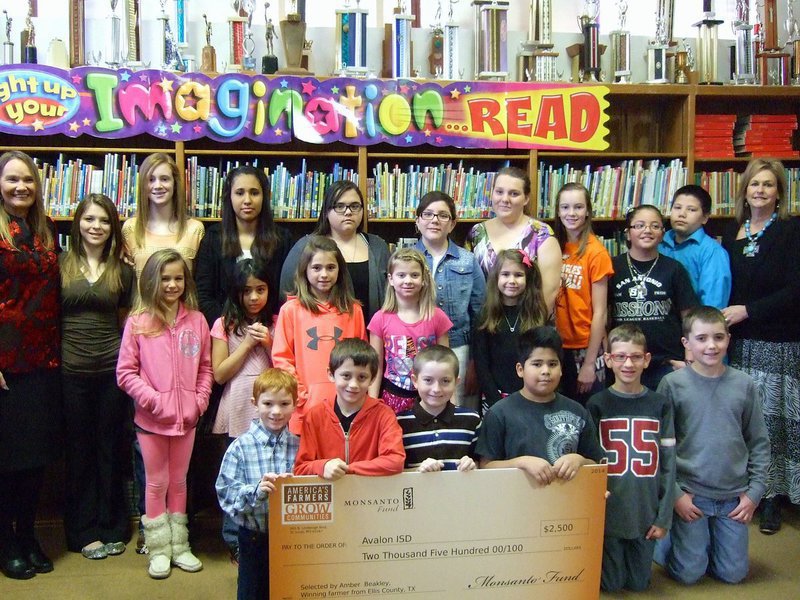 It just seems like every time you turn around something good is happening at Avalon ISD. This time what is happening is really good, about $2,500.00 good. Avalon ISD was awarded the Monsanto Grant.
The Monsanto Company is an agriculture company that delivers agricultural products that support farmers all around the world. Their philanthropic arm of the company, America's Farmers Grow Communities, is sponsored by the Monsanto Fund to support local farming communities. The program engages farmers in entering to win a $2,500.00 donation for their favorite community nonprofit organization such as schools, fire departments and other civic groups.
Local farmer Steven Beakley and his wife Amber entered their name in the drawing and they were chosen! They decided to give the donation to Avalon ISD. The money will be used for reading programs and books for the high school and elementary libraries.
Last Thursday Doug Pustejovsky with Monsanto Company presented the $2,500.00 check to Dr. DelBosque (superintendent), Pam DuBose (high school librarian) and Denice Wimbish (elementary school librarian) in the elementary library with the top readers from all grades looking on with great joy.
Doug Pustejovsky said, "We do this to show the farmers how appreciative we are of their hard work. We give approximately three million dollars a year."
"We are very pleased and honored to receive this donation. It will go for new books and reading programs for our students." Dr. DelBosque expressed cheerfully.
Another great day at Avalon ISD.