Milford gives Italy all they can handle but the Gladiators win in the end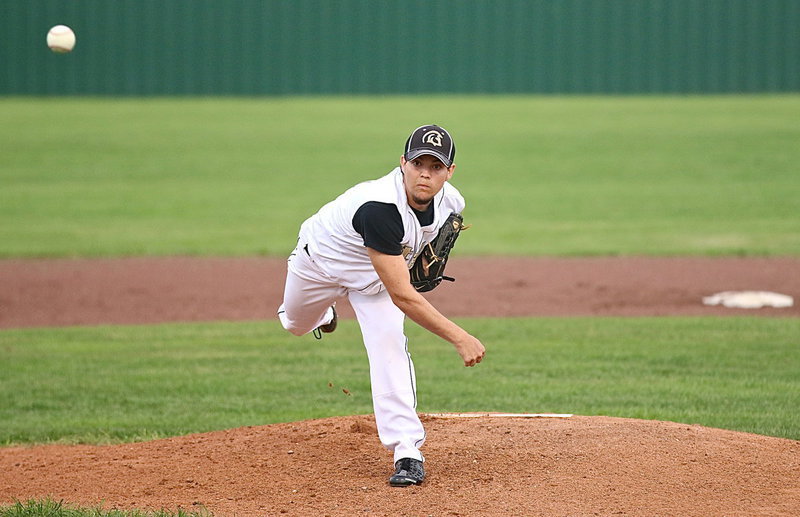 Italy — The Milford Bulldogs led by pitcher Eric Evans tested the Gladiators on Tuesday with Evans locked in a bit of a pitcher's duel against Italy senior Tyler Anderson.
The game remained scoreless into the fifth-inning until Milford's Jacarvus Gates hit a blooper into right field where Italy's Ryan Connor hurried the ball in but not before Gates had recorded an RBI, 1-0 Bulldogs.
Senior Gladiator Kevin Roldan was hit in the face by an Evan's pitch, just below his left eye, and was forced to take an early exit from the game. Roldan was then taken to the E.R. where his injury was diagnosed as a bruise with swelling so "Big Agua" will be out for only a week.
In a showing of sportsmanship for their former teammate, Evans and Bulldog catcher Bryan Fedrick made their way over to Italy's dugout where Roldan came out to shake their hands. Several players from both sides played together back in their IYAA days.
Evans continued to hold Italy's Hitmen at bay with help from centerfielder Jacobe Essary who hauled in a few fly balls for the Bulldog cause. Milford, in the mean time, added a couple of more runs with Evans himself smacking one off the left field wall where Italy's Cody Boyd played it well to keep the damage at a minimum. Anderson, who had turned in one of his best performances of his career, was replaced by Ty Windham who finished out the top half of the seventh from the mound for Italy.
As the game got down to crunch time, it was yours truly who was crunched when a foul ball hit me flush in my left eye while snapping images from the Italy dugout. After handing off the camera and doing a quick check of my situation, I was quickly escorted from the dugout where Italy firefighter Randy Boyd looked me over as Kenneth Norwood, Sr. held me together. I was soon taken away by stretcher with everyone cheering their well wishes and I appreciate the fans from both towns for that. I will heal in time and I appreciate everyone's concern. Now, back to the game!
With Milford leading 3-0 after the top of the seventh-inning, Italy's assistant coach Jackie Cate gave a, "Win one for the photographer," type of speech to rally the troops. With Evans beginning to loose control of his pitches, a pitching change by Milford's coaching staff opened the door for a Gladiator comeback.
With the tension at its highest in the bottom of the seventh and Italy taking their final at bats, the Gladiators were hoping to at least tie the contest and perhaps force an extra inning or two. Italy managed their first score fairly quickly and tied the score 3-3. Anderson, who had kept Italy within striking distance with his work on the mound thru six and a half innings, represented the winning run at second with Connor coming up to bat.
And then it happened, a hit by Connor scored Anderson from second completing the Gladiator comeback in dramatic fashion, Italy 4, Milford 3! What a game by both towns!!!
Notable defensive efforts for Italy were turned in by Boyd in left and Connor in right with both players catching fly balls for outs and hustling to a couple that stayed down. Tyler Vencill was steady and true at catcher while John Byers had a throw out from third to first. Zain Byers caught a popup and a liner at second for a pair of outs and Bailey Walton did a solid job at first after Roldan exited the match.Ty Windham showed his versatility going from shortstop to pitcher to record 1 strikeout and Tyler Anderson was a rock for Italy on the mound with 9 strikeouts.
With the win, Italy improves to 3-0 in district play. And I must say, when my brother, Brentley Byers, told me Italy had rallied to win the game, well, it made my night while I laid their in the E.R. at Big Baylor in Dallas. Not to take anything away from our buds over at Milford, they played great and I'm proud of all the kids.
Way to go, Gladiators and Bulldogs!