Gladiator hitmen pummel Frost, 17-4; John Byers goes yard and thru the uprights!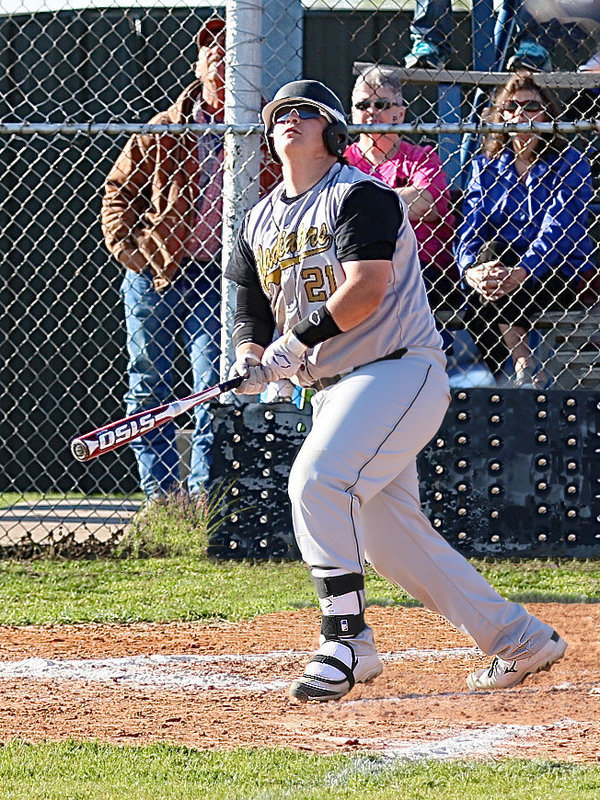 Frost — The Italy Gladiator hitmen flirted with putting one over the fence all game with John Byers, Kyle Fortnenberry, Cody Boyd and Tyler Anderson each coming the closest in Frost. As Italy's lead increased with every massive swat, it seemed it would be just a matter of timing before a mighty Gladiator swing would find its way out.
Junior heavy hitter John Byers finally dotted the "i" in Italy's victory with a monstrous shot that climbed far beyond the left field fence and thru the uprights located at the north end of the Frost football field. Although the honorary three points wasn't added to Italy's run total, the 2 run shot punctuated Italy's 17-4 thrashing of the Polar Bears with Cody Boyd also scoring on the play.
This was the second homer for John Byers this season with both coming over the past two games. It was the first long ball he has hit out-of-the-park. Levi McBride sent one over the right field fence two games back in Avalon.
Sophomore pitcher Ryan Connor had another strong outing for the Gladiators recording 7 strikeouts while fellow sophomore Levi McBride closed out the game for Italy and recorded 3 strikeouts. Connor set the tone for Italy's defense and had plenty of support from his teammates. Kevin Roldan split time with Bailey Walton at first-base and Zain Byers split time with Ty Windham at second-base.
John Escamilla carried the team from his catcher position and also recorded his third double of the season on offense. Fortenberry legged out a triple on one of his hits with the Hitmen playing, "RBI ball," for a stretch as it was blared out by head coach Jon Cady.
Zain Byers singled to score Tyler Vencil, Levi doubled to score Zain Byers, Escamilla doubled to score Fortenberry from third, Cody Boyd singled to put runners at the corners and Tyler Anderson went deep to score Escamilla and Boyd before Frost finally wedged the revolving door that had become their home plate.
Late in the contest, Eric Carson got on base after being hit by a pitch and then eventually slid his way across home plate in a cloud of dust to help put the finishing touches on Italy's 5th straight district win to stand atop the leader board.
---
Friday night's card is as follows:
Italy Baseball: JV vs Axtell — 4:30 p.m.
Italy Softball: Varsity vs Grand Prairie AA (district) — 5:30 p.m.
Italy Baseball: Varsity vs Grand Prairie AA (district) — 7:00 p.m.
Italy Softball: V vs Grand Prairie Advantage (district) — 7:00 p.m.
Go Italy!