Gladiators get 'er done against Milford with 11-5 win to secure district title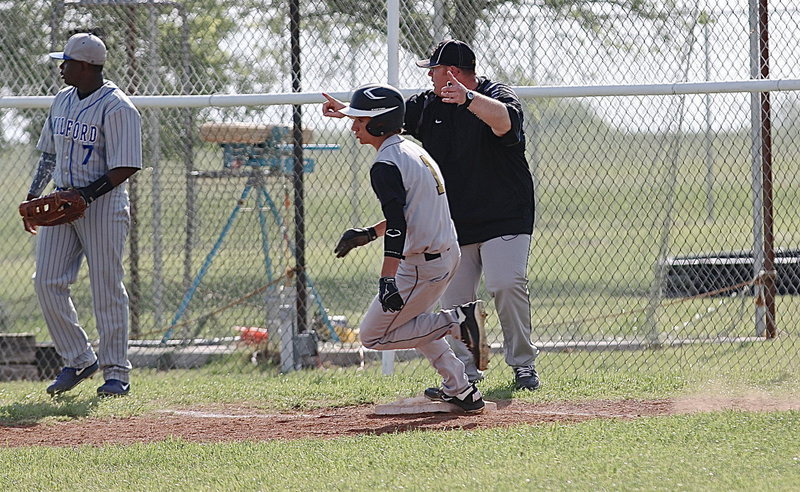 Italy — Once again, the Italy Gladiators have met a challenge head on and conquered it. In a game that would determine if Italy could rise as the undisputed district champion or would Milford be able to even up the district series in hopes of sharing the title.
The previous meeting came down to Italy's final at bat to get the win. This time, however, the Gladiator Hitmen came out swinging with sophomore Levi McBride leading off with a triple to set the tone early.
McBride would eventually score to put Italy up 1-0 and the Gladiators continued with their fast start. Italy totaled 3 runs in the top of the first-inning and then scored 3 more runs in the top of the second to jump out to an early 6-0 advantage.
During the early surge by the Gladiators, hitters Tyler Anderson, a senior, and Ryan Connor, a sophomore, were putting the bat on the ball with Anderson recording a single, a double, a triple and 2 RBIs before his day was done. Connor finished with 2 hits and 2 RBIs.
Also recording hits for the Gladiators were senior Eric Carson, who had a single and 2 RBIs, junior Cody Boyd, who had a single and a RBI, and senior Bailey Walton who had a single and an RBI. Junior Kyle Fortenberry entered the contest batting .600 and managed a single while fellow junior John Byers, who currently leads the district in homeruns with two in the category, singled to record an RBI. John Byers also currently leads Italy with 15 RBIs during district play.
Senior Zain Byers had a chance to send one out of the park but the high flyer crossed and dropped foul at the 275 foot mark, 10 feet shy of the left field fence. Fellow senior Kevin Roldan earned a walk.
With junior catcher John Escamilla absorbing all action from behind the plate for the Gladiators, Connor was the starting pitcher for Italy and recorded 5 strikeouts while only giving up 3 hits to a solid MIlford squad. Fellow sophomore pitcher Ty Windham closed out the win for Italy with 5 more strikeouts from the mound on 2 hits. The duo of Connor and Windham proved to be enough for the Gladiators while Milford went thru three pitchers. Milford senior Eric Evans starting the game before Jacarvus Gates took over on the mound followed by Tyler Fedrick.
Perhaps the defensive play of the day for Italy was turned in by Carson. A bomb shot from Milford carried to centerfield and then glanced off the fence as it come back into the field of play with Carson in the right place at the right time to glove it. Equally impressive was the third-inning defense turned by John Byers for Italy who secured all three outs Italy needed during the frame. John Byers covered two grounders and then made throws on the mark to Roldan who was ready at first-base for the first two outs.
Moments later, after Evans stole second-base for Milford, John Byers caught the Bulldog leader in a rundown. The chase ending when John Byers made a diving tag across the legs of Evans before Evans could finish his dive back to second. The hustle play by John Byers stole any momentum Milford had gathered up to that point and his teammates knew it with the dugout clearing to congratulate, J.B.
Zain Byers started at second-base but was later replaced by Windham. Windham was able to catch a Bulldog runner late in the game who was trying to steal second. Actually, there were several interesting and exciting plays during the game, especially around the base bags. That can be a expected in a game with a championship on the line but it was the Gladiators who were having the majority of those pivotal plays go their way.
Tyler Vencill took over for John Byers at third-base late and eventually helped bring the contest to a close. Tyler Anderson played shortstop and McBride stayed in right field. Gladiator head coach Jon Cady tried to call off the dogs which opened the door for a bit of a Bulldog rally. Fortunately for the Gladiators, Italy's hitters managed 5 more runs after the second-inning which cancel out 5 late runs from the Bulldogs. Three of Milford's final 5 runs occurred during their last at bat.
The bottom line and the final score was Italy 11 and Milford 6. And with that, the Gladiators are automatically the 2014 district champions and automatic bi-district champions. Italy will enter the area playoff round as a number one seed after they complete their two remaining district games against Itasca and Frost. Italy will still be competing hard to finish as undefeated district champions. Italy is 8-0 in district play with the two games remaining.
Box Score:
| | | | | | | | | | | |
| --- | --- | --- | --- | --- | --- | --- | --- | --- | --- | --- |
| Team | 1 | 2 | 3 | 4 | 5 | 6 | 7 | R | H | E |
| | 3 | 3 | 0 | 2 | 0 | 3 | 0 | | 12 | 3 |
| Milford | 0 | 0 | 0 | 1 | 1 | 0 | 3 | 5 | 5 | 5 |
Upcoming Games:
Thursday, April 24th, JV @ Milford, 4:30 p.m.
Friday, April 25th, JV vs. Wortham 4:30 p.m. (at home)
Monday, April 28th, varsity vs. Frost 6:00 p.m. (at home – Senior night activities start at 5:00 p.m.)
---
Congratulations to our Lady Gladiators who defeated Covington to become the 2014 district runner-up and advance into the playoffs!!! — Round one game for the Lady Gladiators will be Thursday, April 24th at Corsicana High School. Game time 6:00pm.
Go Gladiators!