Eggs were everywhere with the Easter Bunny busy as a bee before the hunt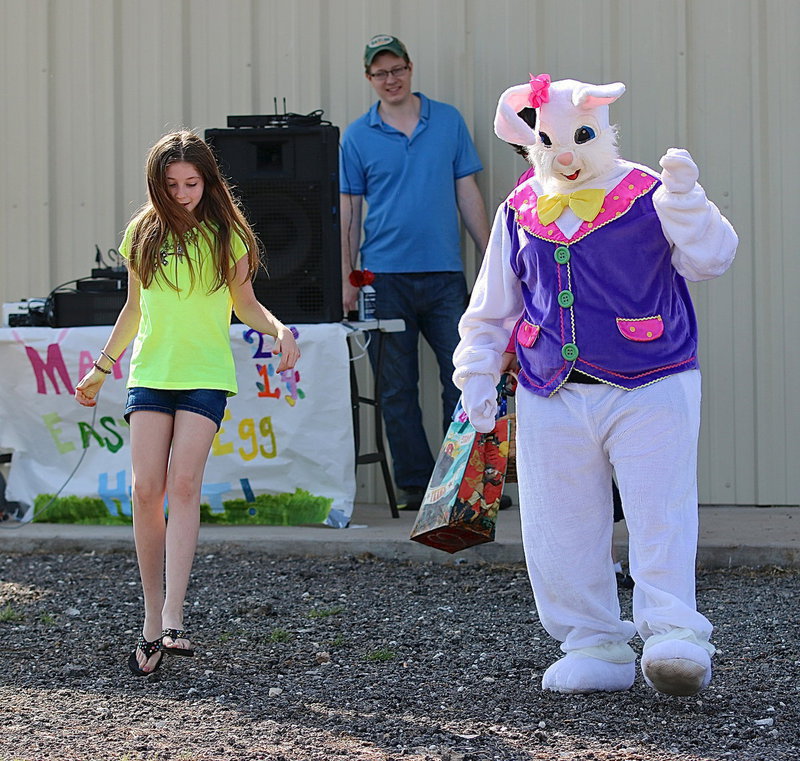 Italy — After the little ones, with their baskets and bags in tow, gathered eggs that had been sprinkled across the lawn by that elusive Easter Bunny as part of the Italy Dunlap Library's annual Easter Egg Hunt. Immediately following the fun at the library, the entire community converged at the Upchurch Ballpark grounds to continue the quest for even more eggs as part of the Mayor's Annual Easter Egg Hunt.
To everyone's surprise, the Easter Bunny, played by Breyanna Beets, decided to stick around to watch the egg hunt. The Easter Bunny's ears perked up as she decided to dance to the Bunny Hop song with Bryant Cockran serving as the event as MC and Joseph Barrett was the musical entertainer.
After some line dancing with the bunny, the young egg hunters went to their age appropriate field sections to begin the search…the search for the money eggs! With areas marked for ages from toddler to 16, the green light was given and the kiddos were off to the races.
Five special prize eggs were found and baskets and buckets full of colorful eggs were scooped as well.
City of Italy Mayor James Hobbs presented the hunters with the money eggs their financial rewards with $25.00 being the highest dollar amount presented.
It was a great day for an egg hunt! Mayor Hobbs hopes everyone had a good time at the event and wished a Happy Easter to all!
Special Thanks to our Event Sponsors!:
Clover Stiles
Tri-County Appliances
John & Linda Goodman
Italy Lions Club
JD and Stella Singleton
John and Kay Droll
Sandy Saxon
Trinity Mission and Residents
Italy High School Art Department
Italy High School National Honor Society
City of Italy Employees