Italy's Zain Byers signs commitment letter to play football for Austin College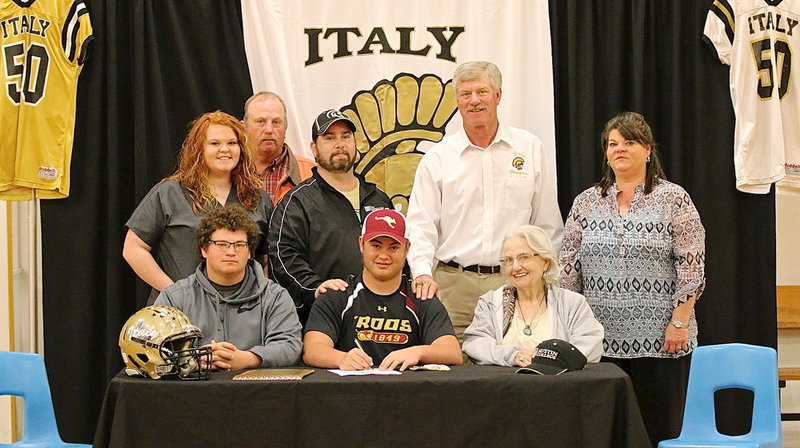 On Wednesday, April 30, 2014, Italy High School coaches, administrators, teachers, invited guests, family members, fellow students and teammates gathered inside George E. Scott Coliseum to share a very special moment for senior Zain Byers (6 foot, 240 pounds) who signed his commitment letter to play football for the Division III, Austin College Kangaroos in Sherman, Texas.
As a representative of Italy Athletics, Zain was an active participant over the years in several sports including basketball, baseball, track, tennis and lacrosse during the summers in Colorado. Football, however, is where Zain carved out a niche for himself and eventually became a three-year starter for the Italy Gladiators.
In that time, Zain became a 1st team all-district performer in four separate positions on the grid-iron including center, right offensive tackle, right offensive guard and twice as a defensive end. It was as a defensive end that he earned all-state recognition by the Texas Sports Writers Association as a junior in 2012 after Italy's deep run into the playoffs that culminated in state semi-final appearance.
Taking on more of a leadership roll going into his senior season, Zain helped guide the Gladiators to a third-straight district championship. Once again, his prowess off the edge earned him 2nd team all-state honors in 2013 by the Associated Press and 1st team all-state honors by TheOldCoach.com. Zain was also named the district 6-1AD1 Defensive MVP and was selected as Gladiator Football's Defensive MVP for both his junior and senior seasons.
Excellence on the field was just part of the equation for Zain who first committed to becoming a better student before reaching his goal of signing a commitment letter to play football at the collegiate level. Nominated by his math teacher, Casey Holden, and eventually named Who's Who Among All-American National Math Scholars as a junior, Zain plans to major in education in hopes of teaching math at the high school level and becoming a coach and mentor to future generations of student-athletes.
When asked what advice could he give to younger students aspiring to play college sports, Zain shed light on a common misconception, "If I could go back to my junior high and freshman years, I would have pushed myself to be a better student much sooner than I did. It wasn't until my former teacher, Margie Davis, who has since retired, encouraged me to take honors classes that I truly began to realize my potential."
Zain went on to explain why being the best student you can be is so important to the process by adding, "When it came time to generate scholarship money for college, the strides I had made academically actually played a more pivotal role in my recruiting process than any athletic accolades. Football got me in the door, but my fairly high ACT and SAT scores, and my overall GPA helped generate the financial aid I will need to attend college."
NOTE: Division III schools are unable to offer athletic scholarships but can offer financial aid and merit-based scholarships, often based on the academic accomplishments, organization/club involvement and community service experiences gathered by students while in junior high and high school. Aspiring young student-athletes should be both coachable on the field and teachable in the classroom.
I also asked Zain has there been been anyone along the way that he would like to take this opportunity to thank for helping him to reach this milestone in his career? As expected, the list is extensive, "I would have to start with my family, and especially with my parents Barry Byers and Tammy Boyd. My older brother Skyler who introduced me to lacrosse and my grandparents Ann and Ervin Byers who helped raise me. Special thanks to my aunt and uncle Nancy and Brent Byers, and to my cousins Lauren Byers, Katie Byers and John Byers for always being supportive. I would also like to thank my aunt Jane Byers-Angle and her husband Dana Angle who are stepping in to help prepare me for college life. I would like to thank my my pee-wee coaches Gary Wood, Bryant Cockran, Ty Evans and Lewis Essary along with my select pee-wee football coaches Chad Oder and Tony Osmer and of course my father who has been coaching since I was in the womb. Also, my junior high and high school coaches Robert Sollers, Brian Coleman, Brandon Duncan, Wayne Rowe, Brian Coffman, Larry Mayberry, Sr., Jeff Richters, Bobby Campbell, Craig Bales, Hank Hollywood and my current head football coach Charles Tindol who has been extremely supportive of me through this whole experience."
Zain also showed appreciation for all the school faculty, staff and administrators but wanted to specifically thank a few teachers. "I so appreciate Casey Holden, Vivian Moreland and Margie Davis for the impact they have made on my life and I am thankful for Tina Richards, Lisa Jacinto and Erica Miller were very helpful with my recruiting and college application processes." I would also like to thank a few of my teammates. I learned things I can use from all the guys but I truly respect and appreciate my closest friends Kevin Roldan, Tyler Anderson and Shad Newman who helped keep me grounded and on the right path. Lastly, I want to thank our fans who have always been there to cheer my teammates and I forward, thru the rain, the mud and the sun. We have great fans, tremendous school spirit and I will always be glad that I had the chance to grow up here in Italy as a Gladiator!"
Italy ISD AD/HFC Charles Tindol addressed the student body in attendance on what it takes to reach the next level and what their academic and athletic mindsets should be as they transition from junior high and into high school. "Whether you are a member of the band or playing a sport, for example, if your dream is to do those things at the college level, you will benefit yourself by striving for good grades while in high school. Higher grades will help generate scholarship money for your college education. Your skills can create opportunities but scholarship money is mostly based on your academic achievement." The event concluded with everyone enjoying cake and snacks while Zain posed for for a few final pictures.
Just what is Zain getting into at the next level? In 2013, the Kangaroos finished in 2nd place within their conference, behind Texas Lutheran University, and posted a respectable 5-5 overall mark. Recruited for his defensive end skills, Zain will have an opportunity to be mentored by three senior ends as a freshman and then hopes to truly begin leaving his mark within the SCAC (Southern Collegiate Athletic Conference) during his sophomore season.
2013 SCAC Football Standings:
| | | |
| --- | --- | --- |
| School | Conference Games | All Games |
| Texas Lutheran | 3-0 | 8-1 |
| Austin College | 2-1 | 5-5 |
| Trinity (Tex.) | 1-2 | 5-5 |
| Southwestern (Tex.) | 0-3 | 0-10 |
Austin College (A four-year liberal arts college)
900 N. Grand Avenue
Sherman, TX 75090
www.athletics@austincollege.edu
Good luck, Zain! Go 'Roos!