Jaclynn Lewis, Italy High School senior to sign commitment letter to TLU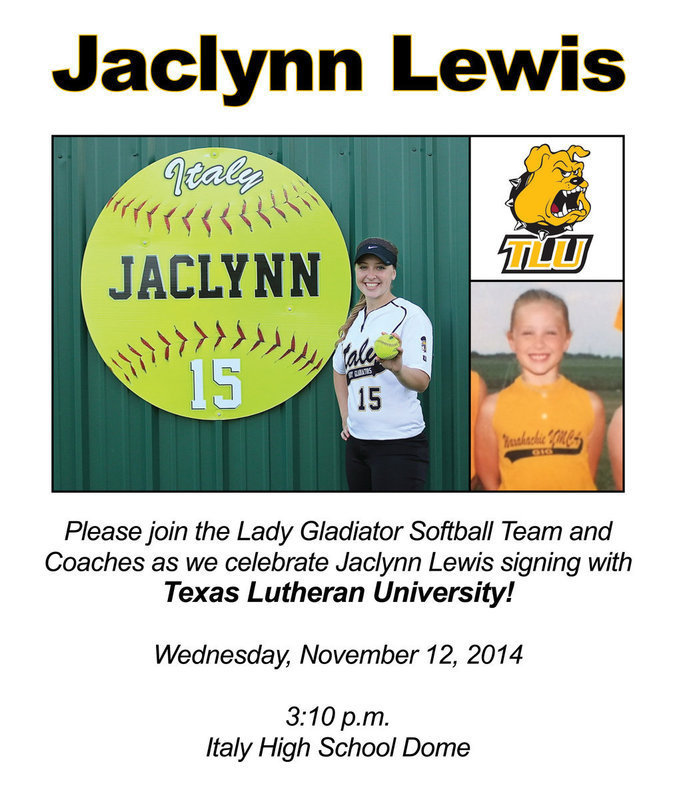 Please join the Lady Gladiator Softball Team and Coaches on Wednesday, November 12, 2014 at 3:10 pm in the Italy High School Dome to celebrate Jaclynn Lewis signing to play college softball. Jaclynn has committed to play with Texas Lutheran University in Seguin, Texas.
Jaclynn is a two-time All-State pitcher and has been a varsity member of the Lady Gladiator Softball team since her freshman season. She has helped lead the Lady Gladiators to the playoffs in each of the past three seasons and has her sights set on another playoff run as a senior in 2015. Jaclynn has also lettered in several other sports including Cross-country, Basketball and Volleyball and has always been a positive representative of Italy Athletics.
From early on, however, Jaclynn's passion has been softball. Jaclynn participates in year round softball as well as competing for the Lady Gladiators and Italy High School. But it is the countless hours behind the scenes that has ensured Jaclynn's success in softball. TLU is getting a true competitor that's determined to win and gives everything she can to the sport.
We are very excited to see what Jaclynn's future as a Lady Bulldog entails!
Go Bulldogs!