Italy's Jaclynn Lewis commits to TLU among teammates, coaches, family and fans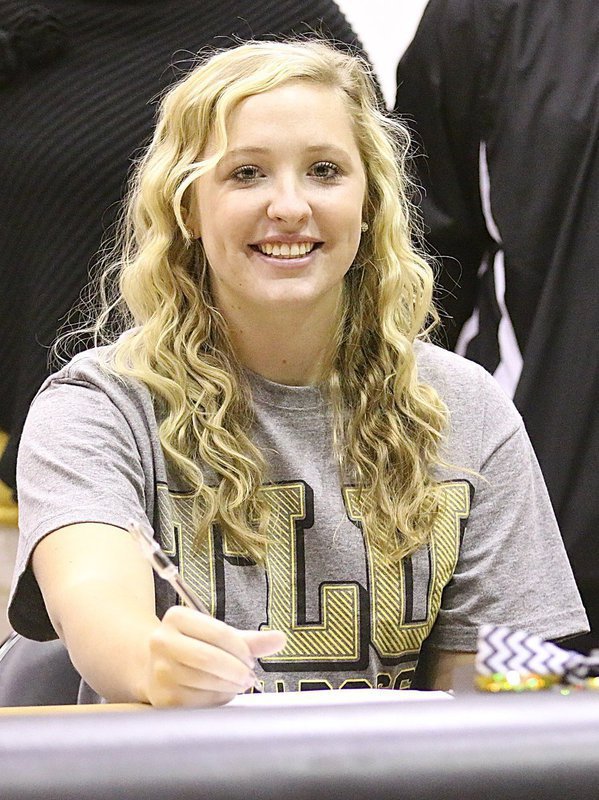 Italy — We always knew Jaclynn Lewis, a senior at Italy High School, would follow in her big sister Megann Lewis Harlow's cleat steps and become a softball pitcher at the collegiate level.
With the countless hours that Jaclynn would practice in the old gym, in her back yard, at the tennis courts or at the high school field, and throw pitch after pitch to her father, Russ Lewis, who bravely volunteered as catcher while sitting on a bucket, we always knew that this day would come. Mother, Kelly lewis, was never far away and often sat nearby watching intently, just as she had done while Megann had gone thru her paces. And so as the pop of each pitch echoed, thousands of pitches and pop after pop, we knew Jaclynn was on the right path.
Always participating on select ball teams to improve her skills, Jaclynn remained committed to her town, her school and her teammates by also competing for the old gold and white in both fall and spring. The sacrifice from both her family and herself and the countless miles covered while keeping her ultimate goal in sight have paid off, as we knew it would.
Yeah, we always knew. But there is nothing like making it official and that is just what Jaclynn did on Wednesday while being surrounded by her teammates, coaches, classmates, family and fans. With Megann, nephew Renn, Russ and Kelly by her side, Jaclynn signed her commitment letter to play softball for Texas Lutheran University in Seguin, Texas.
After many photos captured the moment, those attending were served cake and punch as everyone congratulated Jaclynn on her accomplishment. It was a great day for the Lewis family and for Italy Athletics!
Jaclynn joins a TLU Lady Bulldog team that has been very successful in recent years and will no doubt continue that trend for head softball coach Wade Wilson. A multi-sport player, Lewis has been an All-State pitcher for the Lady Gladiators the past two seasons and still has her senior season to go.
Jaclynn becomes the third Lady Gladiator over the past four seasons to compete at the collegiate level. The Lady Gladiators can now boast having 9 of their players going on to play at the collegiate level, including:
Italy Lady Gladiator Collegiate Softball Players:
Jaclynn Lewis — (2015, Texas Lutheran University)
Alyssa Richards — (2013, Tennessee Tech University – Current member)
Megan Richards — (2012, 1 season with University of Texas Permian Basin then on to Hardin Simmons University)
Megann Harlow Lewis — (2007, 2 seasons with Vernon College, 2 seasons with Hardin Simmons University)
Sarah DeMoss — (2006, 1 season with Texarkana College, 1 season with Vernon College and finally 2 seasons with San Angelo State University)
Nikki Zambrano Nuttall — (2006, 1 season with East Central Texas College, 1 season with Vernon College, then finished her career at Southern Arkansas University)
Kaitlyn Morrison — (2004, 1 season with Stephan F. Austin University and then finished her career at Midwestern State University)
JoAnn "JoJo" Jones Miller — (2003, 2 seasons at Texarkana College, 2 seasons at Henderson State College)
Cortnei Threadgil — (2003, 2 seasons at Texarkana College)


"I want to thank everyone who made yesterday possible! I can not wait to be a bulldog and to see what my future holds! I'm so very blessed with all these people who have touched my life!
But first — lets make a trail in 2015 Lady Gladiators!!!
Thanks again!" — Jaclynn
Congratulations and good luck, Jaclynn! You make us proud!!
Italy softball player signs with Texas Lutheran
Go TLU Lady Bulldogs!