Lady Gladiator fall softball concludes season with a tournament championship win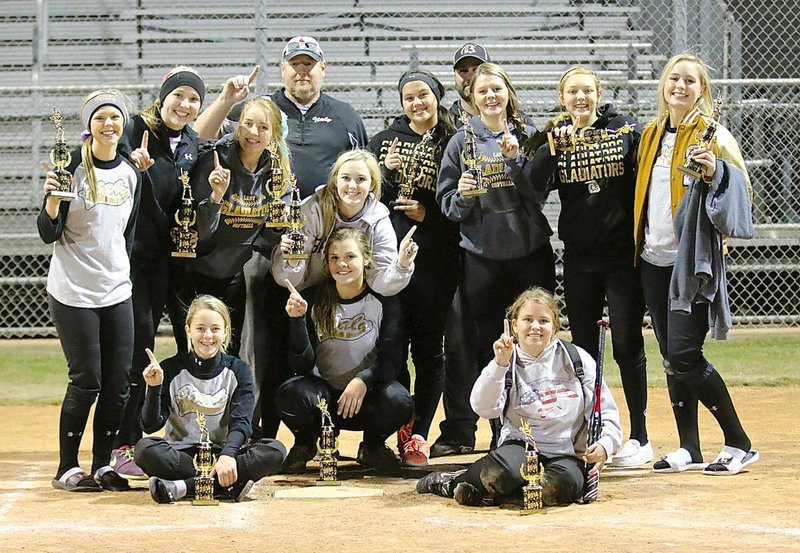 Cedar Hill — Going at it since early October, members of the Lady Gladiator Softball team competed in a ten week long fall ball competition to determine final seeding in the season ending tournament known as the 2014 CHGSA Fall Classic.
Taking on much larger schools, Team Italy held its own and proved they would be a team to reckon with come tournament time. Split into both Gold and Silver, Italy was placed into the Gold Bracket of the tournament due to their win/loss record as a second seed.
After a tournament win over Duncanville with Italy winning 12-0, Italy entered the tournament championship game to take on their toughest competition of the fall session, South Grand Prairie. South Grand Prairie had previously beaten Italy in both meetings leading up to the tournament.
Coaches Allen Richards and Shawn Holden were confident and that sureness trickled down throughout the lineup. Italy batted first and Bailey Eubank led off with a single that she was able to stretch into a two-baser after a bad throw. After Italy flied out to centerfield, Jaclynn Lewis singled sending Eubank to third-base. Italy's next batter grounds out but Lewis scoots over to second-base with South Grand Prairie trying to secure a third out.
Italy's Lillie Perry rips a single to score Eubank and advance Lewis to third. Brycelen Richards is walked to load the bases. Italy's next batter strikes out looking but not before Italy took a 1-0 lead in the top of the first-inning.
Lewis, with her intimidating presence, casually strolled to the mound and Perry setup as catcher behind the plate. Lewis struck out the first batter for South Grand Prairie. Britney Chambers backhanded a popup into right field for the second out and Madison Washington, at shortstop, scooped up a ground ball and then aggressively threw out the third batter with Jenna Holden covering first-base. Italy remained in front 1-0 going into the second.
With one out in the top of the second, Hannah Washington managed to get on base with a single. Unfortunately, South Grand Prairie would pull a double play against Italy's next batter to sit Italy down.
South Grand Prairie opened the bottom of the second-inning with a triple. Lewis strikes out the next batter but the next hit grounds out to Jenna Holden at first, scoring the runner from third and tying the game 1-1. South Grand Prairie's next batter grounds out to third for the third out.
Italy quickly responds in the top of the third-inning. After a fly out to center, Kelsey Nelson smacks a double into the outfield. Lewis follows up with a single to keep the momentum going. Madison Washington singles and gets to second-base after a bad throw. Nelson scores to put Italy back on top 2-1 while Lewis advances to third-base.
With two outs, Richards is hit by a pitch to get on first. Britney Chambers singles, scoring Lewis from third. Italy extends their lead 3-1. Italy again has the bases loaded with Madison Washington at third, Richards on second and Britney Chambers at first but the next batter strikes out swinging for the third out.
After Lewis strikes out the first South Grand Prairie batter swinging at air to start the bottom of the third. The next batter bloops one into right field with Britney Chambers making a sliding effort for the catch but the ball pops out. Lewis strikes out the next batter looking but the runner on first eventually steals second and then third. With two outs, the South Grand Prairie runner eventually makes it home after a passed ball at the plate. Lewis regathers and strikes out the next batter swinging for the third out. Italy continues to lead 3-2 going into the fourth-inning.
Italy came out swinging and hitting but Hannah Washington grounded out to short, Brooke DeBorde grounded out to third and Eubank grounded out to short for the third out. South Grand Prairie's defense did its job and returned to their dugout to grab bats.
Lewis returned to the mound and Perry remained behind the plate with holding a 3-2 advantage. Now in the bottom of the fourth, South Grand Prairie manufactured consecutive hits to put runners at third and second with help from a fielding error by Italy. The pressure was squarely on the shoulders of Lewis with South Grand Prairie threatening and no outs on the board.
Lewis strikes out the next batter swinging, and then the the next for two quick outs. The next batter dribbles a hit back to the mound where Lewis reacts and makes a patient throw to first-base. Jenna Holden makes the catch for the much needed third out. Italy survives the bottom half of the fourth-inning to maintain their 3-2 cushion.
After a double play by South Grand Prarie's defense threatens to sour Italy's final at bat, Madison Washington zips a long ball deep into the outfield for big time triple. Unfortunately, Italy's next batter flies out to left field for the third out but Italy still leads by 1-point with South Grand Prairie preparing for their last at bat.
South Grand Prairie singles to begin the stanza. The runner eventually reaches second on a passed ball at the plate. Lewis strikes out the next batter swinging. A sacrifice bunt to the mound allows Lewis to collect a second out for Italy's defense but South Grand Prairie advances the game-tying run to third-base and has the go ahead run at the plate.
Lewis takes an extended deep breath and then gathers herself for one final task atop the mound. With 2 balls and 2 strikes, Lewis catches the final batter looking at strike three to secure a 3-2 tournament championship CHGSA Fall Classic win for Italy over South Grand Prairie. Finally getting the better of the team who had bested Italy in their previous two match ups. Congratulations to those country gals from Italy!
Notable game stats:
Madison Washington had a triple.
Kelsey Nelson had a double.
Madison Washington, Kelsey Nelson and Jaclynn Lewis each hit 2-for-3 in the championship game.
Jaclynn Lewis had 9 strikeouts in a 5 inning game.
NOTE: Italy's freshman group of players, including Jenna Holden, Brycelen Richards, Jill Varner and Kirsten Viator made good impressions on Italy's fan base throughout the fall session.
Slap hitters Bailey Eubank and Britney Chambers have the potential to be major offensive weapons for the Lady Gladiators in the spring. Switch hitter Tara Wallis will be in that mix as well.
Also, congratulations to Jaclynn Lewis who was presented two out-of-the-park homerun trophies during the course of the tournament.


Lady Gladiators Tournament Roster:
Britney Chambers
Jenna Holden
Brooke DeBorde
Bailey Eubank
Jaclynn Lewis
April Lusk
Kelsey Nelson
Lillie Perry
Brycelen Richards
Jill Varner
Kirsten Viator
Tara Wallis
Hannah Washington
Madison Washington
Congrats to the Champs!!!