Lady Gladiator Softball scrimmages Red Oak Life — play ball!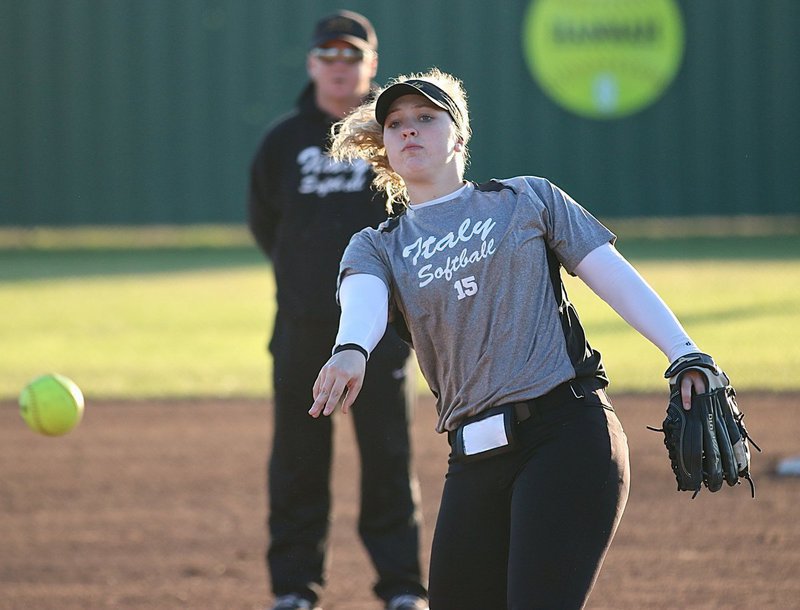 Italy — Italy came off a strong scrimmage against Red Oak, a tournament win over Duncanville and a tournament loss to Waxahachie as they welcomed Red Oak Life to Johnny Jones Field for a friendly workout.
Former Lady Gladiator head coach Wayne Rowe brought his new Red Oak Life squad to challenge his old team with Italy's new head coach Tina Richards now running the the greatest show on sand.
Coach Richards has been a long-time assistant for the Lady Gladiators and will be coaching her third daughter this season, freshman Brycelen Richards, who follows in the path of her sister's Meagan Richards and Alyssa Richards who both went on to play college ball. For now Brycelen is heading to the playoffs with the Lady Gladiator basketball team.
Italy boasts returning all-state pitcher Jaclynn Lewis and her senior teammates Madison Washington, Bailey Eubank, Kelsey Nelson and Tara Wallis. Wallis is also playoff bound with the basketball team but Washington, Eubank , Lewis and Nelson are already proving this will be there best season yet, particularly when facing opposing pitchers. Lillie Perry, a sophomore, is also on the basketball team but will add her powerful swing to the lineup later on.
Against Red Oak Life, Washington crunched the ball for an inside-the-park RBI homerun and little sister Hannah Washington blasted an early triple. Fast and furious April Lusk tapped a bunt and then beat the throw to first, 'cause she's fast. Lusk makes fast people look not fast. Britney Chambers has been an equally effective slap-hitter. Cassidy Childers had success against Red Oak Life as a slap-hitter, as well.
Newcomers Jenna Holden, Kirsten Viator, Grace Haight and Paige Cunningham are getting into the swing of things with Holden getting plenty of reps at first-base as well as time on the mound.
During the first two innings Lewis held Red Oak Life's hitters in check while Italy's offensive weaponry racked up the runs. This pattern continued with Holden on the mound the last half of the scrimmage.
Overall, the Lady Gladiators are off to a tremendous start to their 2015 season with help from assistant coaches Michael Chambers and the man, the myth and the legend himself, Johnny Jones.
Take advantage of the warm weather tomorrow (Saturday, February 14th) and watch our "Valentine Sweethearts of Sand" host Blooming Grove and Palmer for a three team round-robin tournament. Our Lady Gladiators will take on Palmer at 10am and Blooming Grove at 2pm. Blooming Grove and Palmer will play each other at noon. Be there!
Go Lady Gladiators!