Italy Lady Gladiator Softball posted 5 shutouts during Tournament of Champions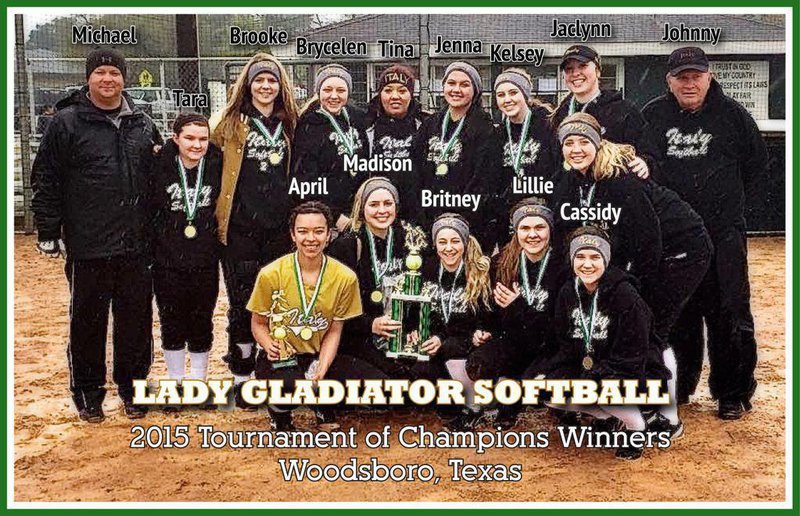 Woodsboro — Lady Gladiator Softball posts five shutouts during the 2015 Tournament of Champions held in Woodsboro this past weekend.
The two-day event had Italy's ladies staying two nights at a motel in Refugio while playing three on games Friday and two games on Saturday.
And although Italy's living accommodations may not have been much to brag about, their performance and physical presence on the field gave head coach Tina Richards and assistant coaches Johnny Jones and Michael Chambers plenty to brag about.
Head coach, Tina Richards has this to say about the Lady Gladiators' performance during he tournament in Woodsboro, "As coaches, we asked the girls to commit …commit to the team, commit to the program, commit to being Lady Gladiators. The Woodsboro tournament helped us see that what we are doing is leading us in the right direction. Winning the tournament was a great feeling! We hit the ball well, team batting average was .400. Our pitchers were lights out, pitching five shutouts. The defense was spot on with .924 fielding percentage. But the true winning came from the many people in the stands and the community of Woodsboro complimenting the softball team on their athleticism, their attitude and their commending behavior. Winning on the the field is a plus, believe me…but the true winning comes in building characters of our future! I can speak for all the coaches when we say we are very proud of these talented young ladies!!!"
Below is a scoring recap of Italy's games played during the tournament followed by a few highlight moments and performances:
Italy wins vs tournament opponents:
Game 1 – Italy-16 vs Hubbard-0
Game 2 – Italy-11 vs Port Aransas-0
Game 3 – Italy-10 vs Woodsboro-0
Game 4 – Italy-19 vs Bloomington JV Team-0

Freshman Jenna Holden pitched posted her first win of season
Game 5 – Italy-14 vs Goliad-0

Madison Washington catches a liner to end the tournament


Senior, two-time all-state pitcher, and TLU commit, Jaclynn Lewis, posted 4 strikeouts against Hubbard, 10 strikeouts against Port Aransas, 9 strikeouts against Woodsboro and 4 strikeouts against Goliad. Teammate Jenna Holden, a freshman, was on the mound for the Lady Gladiators against the Bloomington JV team for the 4th game and posted posted her first career win.
Jaclynn Lewis hit three out-of-the-park homeruns for the Lady Gladiators over the course of the tournament with her first jaw-dropping shot nailing a light pole in left/center field about halfway up. Lewis's second potential window smasher was against Bloomington and her final long-ball shot occurred against Goliad in the weekend finale.
Senior Bailey Eubank, senior Madison Washington and sophomore April Lusk all hit triples along the way with Lusk pulling off the feat twice.
Lewis knocked in 13 RBIs and crossed home plate 8 times and Kelsey Nelson recorded 10 RBIs and crossed home plate 9 times. Lusk had 5 RBIs and crossed home plate 11 times while Washington had 4 RBIs and crossed home plate 10 times. Lusk recorded 13 stolen bases, including stealing home 3 times against three opponents and Washington stole base 7 times.
Freshman Brycelen Richards was a hitting beast with six hits 6, recording 6 RBIs and batting for a .667 average on 9 plate appearances. Richards also crossed the plate 5 times.
Senior Tara Wallis proved to be an effective bunter while executing a bunt 3 times on 5 at bats. Wallis crossed the plate 4 times for the Lady Gladiator causes.
Shortstop Madison Washington ended the tournament with a diving catch with 2 runners on base to preserve Italy's 5th straight shutout of the weekend.
"The girls were great both on the field and off. Kudos to Jaclynn for hitting 3 tators and pitching 4 shutouts. But it was truly a team effort. Kelsey Nelson had 10 RBIs in the 5 games, all played well, all played team ball. Maddy Washington punctuated the weekend with a diving catch to end the tournament," summed up Lady Gladiator assistant coach Johnny Jones.
Italy's 2015 Tournament of Champions All-Tournament honorees:
Unanimous All-Tournament MVP — Jaclynn Lewis
All-Tournament Shortstop — Madison Washington
All-Tournament Centerfielder — Kelsey Nelson
All-Tournament Catcher — April Lusk
All-Tournament Second Baseman — Brycelen Richards
Most important honor went to the team in the form of a trophy for the 2015 Tournament of Champions. With the tournament using a point earning system to determine the winner, the Lady Gladiators scored a perfect 25 for the five games. Italy could not have scored more.
Awesome Job! Coop Crew!!
The Lady Gladiators take on Mildred in Italy on Saturday, March 7th. Game time is 2pm. Be there!