Gladiator stand 2-2 in district standings with plenty of baseball still to play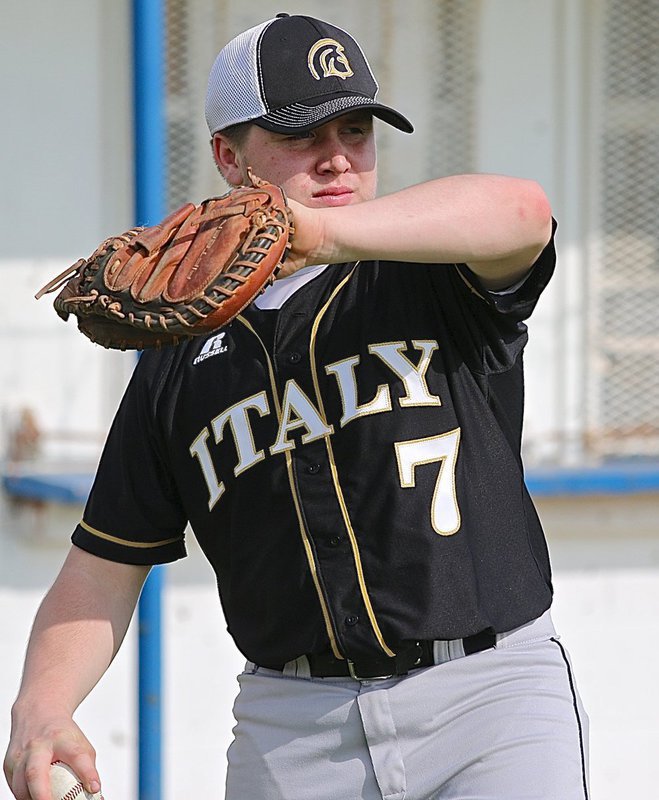 Frost — In their second district game of the 2015 season, the Gladiators made the short drive over to neighboring Frost for a Monday duel on the diamond.
Junior pitcher Ryan Connor started on the mound for the Gladiators with senior catcher John Escamilla working behind the plate.
Both sides jabbed at each other early but Frost scored first to lead 1-0. A RBI ground out by Italy's John Byers scored a teammate to tie the match 1-1 in the top of the third-inning.
Italy errors and a couple of good hits helped Frost build a 5-1 advantage in the bottom half of the third.
Hanging in there, Italy scored 2 runs in the fifth and 2 more runs in the sixth-inning to tie the match again at 5-all.
Levi McBride had replaced Connor on the mound, and despite pitching well, Frost still managed to go up 7-5 when they added 2 runs in the bottom of the sixth-inning.
The Gladiators had one last chance to win in the top of the seventh-inning when they loaded the bases against the Polar Bears. Unfortunately, Italy's comeback effort fell short and Frost survived with a 7-5 win to defend their home field.
Italy's offense was led by Byers with 2RBIs before he exited the game with a hamstring pull and by Escamilla with 1RBI on 2 hits, including a double. Connor had 2 hits and scored twice as did Levi McBride. Ty Windham hit once and scored once, Kyle Fortenberry hit twice including a double and a single and Kenneth Norwood, Jr. scored a run. Clayton Miller was active at the plate, as well, and recorded 2 hits. Tyler Vencill hit a single and drew a pair of walks and Cody Boyd was also walked twice.
On defense, Connor pitched 4 strikeouts for Italy and McBride threw 5 strikeouts in relief. McBride also made a diving catch in centerfield and Byers made a leaping grab at third to keep Frost held up at third-base. Vencill had a busy day covering first-base with too many close calls to count. Boyd made a diving effort in right field hitting the ground hard. To the senior's credit, he bounded to his cleats and relayed the ball into the infield before checking his wounds. Fortenberry also made a diving attempt in left. Windham played with a ton of energy at shortstop and had a solid performance for the Gladiator cause.
Italy vs. Itasca:
Italy returned home to take on Itasca and led 1-0 going into the seventh-inning but the Wampus Cats got a couple of solid hits in the top of the inning to claim a 2-1 advantage. The Gladiators got the tying run on third-base but Itasca's catcher and third-baseman teamed up to tag the Italy runner out before he could get back to the bag to end the game. It was Italy's second tough loss in district play.
Despite the loss, junior pitcher Ty Windham gave an outstanding performance on the mound with 16 strikeouts with senior catcher John Escamilla working behind the plate.
Italy vs. Covington:
The Gladiators regrouped and get back on track with head coach Jon Cady and assistant coaches Jackie Cate and Brandon Ganske in place to guide the team. With Covington in town on Tuesday, Italy took care of business with a 15-1 win.
Levi McBride and Ryan Connor led Italy's offensive assault with both Gladiators recording 3 hits each. McBride scored 4 times and Connor scored three times. Senior Cody Boyd recorded 3RBIs on 2 hits. Kyle Fortenberry, John Escamilla, Clayton Miller and Ty Windham recorded 1 hit each with McBride, Escamilla and Windham also adding 1RBI each. Garret Janek scored 2 runs for the Gladiators.
Levi McBride pitched the full game no hitter while recording 11 strikeouts with Escamilla handling the catching duties.
Italy is now 2-2 in district play with plenty of baseball left to play. Including with this article are photos from Italy's district mathup against Frost.
Go Gladiators!