Lewis goes yard twice to lift Lady Gladiators to 17-6 district win over Frost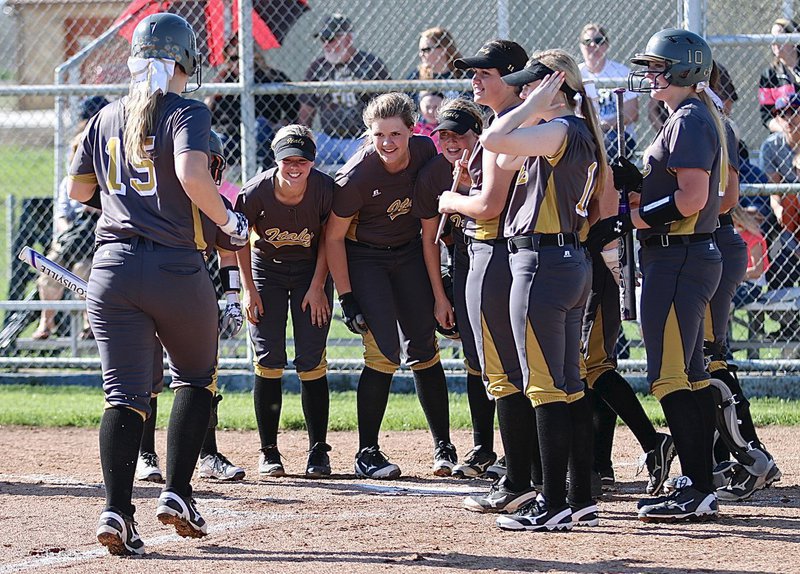 Frost — The Lady Gladiators powered their way to 17-6 win over the Frost Lady Polar Bears to start off Italy's district campaign on the right cleat. Host Frost tried to make a game of it late but senior pitcher Jaclynn Lewis stood strong with support from her catcher, sophomore April Lusk and defensive teammates.
The story in this one was Italy's offensive firepower. Frost led briefly 2-1 until Lewis lofted a 2-run shot over the centerfield fence to score fellow senior Tara Wallis and put Italy in front for good, 3-2.
Senior Madison Washington followed by stretching a single into a triple after a passed ball to first-base allowed Washington to take two extra bases. With Lillie Perry up to bat, Washington would score to put Italy up 4-2 going into the bottom of third-inning.
Italy's bats would heat up again in the fifth-inning with Bailey Eubank slap hitting her way on base. Lusk followed with a single, using her speed to beat the throw to first and advance Eubank to second.
Lewis returned to the plate, and after fouling a ball to deep left, straightened the next pitch out and sent it selling high into left field for her second consecutive fence clearing swat of the contest. The second game defining moment for Italy scored three to position the Lady Gladiators well in front, 7-2.
Washington again followed up with a big hit of her own when she rounded first and slid into second-base to jar the ball loose from the Frost shortstop who had made the tag initially. Perry singled to score Washington and increase Italy's advantage, 8-2. Hannah Washington followed with a single. Jenna Holden connected to score Perry, 9-2. Eubank doubled to score Hannah Washington, 10-2. Lusk hit her way on base to put runners at first and third for Italy. Lewis battled her way to a walk, loading the bases. Madison Washington singled to score Eubank and Lusk. Italy led 12-2 and then 13-2 before Frost could secure a third out to move the game into the bottom of the fifth-inning.
Frost finally showed signs of life to tighten the deficit 13-5 going into the top of the sixth-inning. The Lady Gladiators regrouped and finished the game strong to win their district opener 17-6 over the Lady Polar Bears.
The Lady Gladiators will take on visiting Avalon today, Tuesday, March 24, starting at 5:30 p.m. at Johnny Jones Field for their second district outing in back-to-back days. Our ladies may need an emotional boost from fans so be ready to make some noise!
Go Lady Gladiators!