Good luck, Alyssa Richards, and to your Tennessee Tech Golden Eagles teammates!!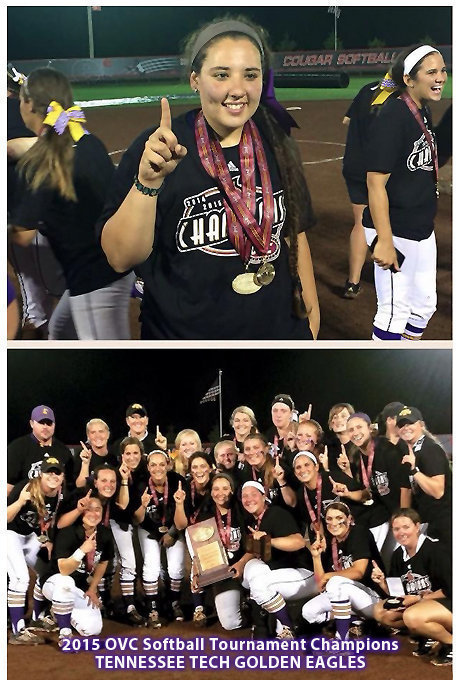 Just giving a quick shoutout to former Lady Gladiator and current Tennessee Tech Golden Eagle, Alyssa Richards, and to all her teammates and coaches on becoming the 2015 Ohio Valley Conference (OVC) Softball Tournament Champions.
With their accomplishments, TTU advances to the big dance where they will take on Auburn University in the first-round.
Alyssa has been a key contributor to TTUs success on the diamond with her skills as a hitter and her ability to send pitches sailing out of the park.
Early in the tournament, Alyssa recorded back-to-back, out-of-the-park homeruns against Eastern Kentucky to help lead the Golden Eagles to an 11-3 win.
In the tournament championship game against the SIU Edwardsville Cougars, Alyssa blasted a 2run shot over the left field fence to give TTU a 3-0 advantage in the top of the fourth-inning. TTU held on to win 3-2 while going an unbeaten 4-0 in the tournament to advance to the NCAA Tournament.
It was the 7th OVC Softball Tournament Championship victory for TTU and their first since 2007. For her efforts, Alyssa was named to the all-tournament team!
Tennessee Tech (32-26) will face Auburn University (49-9) in the first-round of the NCAA Tournament on Friday at 6:30 p.m. ET (ESPN 3). Auburn's win/loss record this season is the best in their school's history.
Alyssa is the daughter of Tina and Allen Richards of Italy, Texas. Older sister Meagan Richards also played collegiate level softball as a pitcher and little sister Brycelen Richards currently plays first-base and pitcher for the Italy Lady Gladiators.
TTU Golden Eagles 2015 OVC Championship Tournament Highlights
Good luck Alyssa! Go Golden Eagles!!