Italy Softball earns district honors; Lewis named MVP, Washington Defensive POY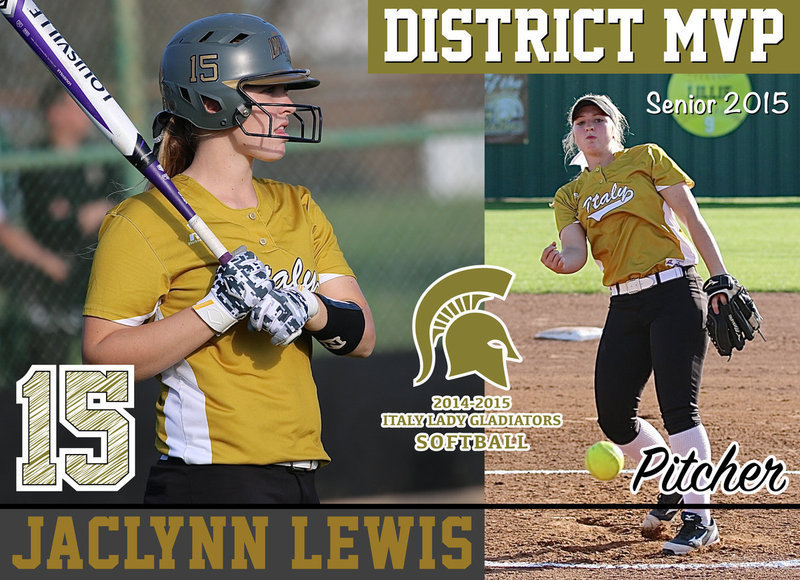 After pulling off an undefeated district championship and eventually finishing as automatic bi-district champions and area finalists, several members of the 2015 Italy Lady Gladiators Softball program received all-district recognition for their efforts this season.
Topping the list was senior pitcher and Texas Lutheran University commit Jaclynn Lewis who earned District MVP after recording 10 district wins in 10 starts while leading the district with 4 homeruns (8 total).
Senior teammate, Madison Washington earned Defensive Player of the Year honors as a fierce, sand-slinging shortstop. Washington was an intimidating presence as both a fielder and as a power hitter for Italy while recording 1 homerun on the season.
Sophomore catcher April Lusk filled in for injured teammate Lillie Perry and became the district's Catcher of the Year while making a seamless transition from third-base to home plate protector.
Freshman Brycelen "Cha Cha" Richards earned Newcomer of the Year honors as a reliable and consistent performer at first-base, as well as, proving to be a solid hitter for the Lady Gladiators. The youngest daughter of Tina and Allen Richards of Italy, Cha Cha joins her sisters, Meagan "Rich" Richards, and, Alyssa "Bone Crusher" Richards, as district Superlative award winners. Plus they each have cool nicknames:)
Seniors Kelsey Nelson, CF; Tara Wallis, RF and Bailey Eubank, 2B, each earned 1st Team All-District honors. Nelson had several fly ball catches in the outfield this season while on the run, Eubank, always under control, provided hustle to Italy's stifling defense as did the accurate throwing Wallis who was always quick to relay balls back into the infield. All three seniors were also hitting threats for the Lady Gladiators with Nelson swinging away and Eubank and Wallis often relying on their slap-hitting skills to get on base.
Third-baseman Hannah Washington was also named 1st Team All-District as a dependable hitter and gutsy base runner. This honor should help to keep the junior motivated as she now prepares for her senior season.
Italy also had three 2nd Team All-District performers including Lillie Perry, Britney Chambers and Jenna Holden. Perry was out for awhile with a leg injury but is sure to be a force again next season as a powerful hitter. Chambers found her niche in left field and was a much improved slap hitter for Italy's high octane offense. Just a freshman, Holden saw plenty of infield action with stints at both first-base and third-base. Cassidy Childers was a reliable pinch runner and put time in at left field to earn Honorable Mention All-District honors.
As impressive as Italy's team and individual accomplishments from this season are, perhaps their greatest accomplishment was the positive, hard-working atmosphere each player helped to create from within The Coop. The team embraced more demanding workouts which truly bonded them together. In doing so, these ladies are leaving behind a formula for team success that the program can continue to build upon.
Congratulations to head coach Tina Richards, to assistant coaches Michael Chambers and Johnny Jones and to the the players for their achievements and for giving us fans yet another memorable season. To the seniors, we are all going to miss watching you ladies play some ball! Thank you for your sacrifices and the best of luck to each of you in your future endeavors!
Superlatives


District MVP:
Defensive Player of the Year:
Catcher of the Year:
Newcomer of the Year:
Brycelen "Cha Cha" Richards


1st Team All-District Recipients


1st Team All-District:
Kelsey Nelson (Sr.)
Tara Wallis (Sr.)
Bailey Eubank (Sr.)
Hannah Washington


2nd Team All-District Recipients


2nd Team All-District:
Lillie Perry
Britney Chambers
Jenna Holden
Honorable Mention All-District Recipient


Honorable Mention All-District:
The following players were named to the Academic All-District Team with 11 of Italy's 13 players making the grade:
Academic All-District Recipients


Britney Chambers
Brooke Deborde
Bailey Eubank
Jenna Holden
Jaclynn Lewis
April Lusk
Kelsey Nelson
Brycelen Richards
Tara Wallis
Hannah Washington
Madison Washington
Way To Go Lady Gladiators!